Kreativwirtschaft Austria collects successful and vivid examples that illustrate how creative professionals create added value and turnover together with their clients from the business world. In this story, the branding experts at Sery* have brought the Upper Austrian technology company emporia to the forefront with a strategy for simple but successful brand positioning in the field of mobile telephony.
Simply successful: Simple mobile phones simply advertise

Easy to use mobile phones need easy to understand communication measures. And that's exactly how the branding specialists at Sery* Brand Communications have helped the Upper Austrian senior citizens' mobile phone manufacturer emporia boost its sales.
Mobile phones for senior citizens from Upper Austria
emporia Telecom is a small Upper Austrian technology provider that has successfully established itself as a leader in the niche of mobile phones for seniors in Europe. The company specializes in manufacturing mobile phones for people who do not place great value on multimedia applications and complex menu navigation, but who want to make simple and straightforward calls.
How to make communication easy
The aim of the collaboration with the Sery* agency was to strengthen the emporia brand as an expert in simple communication in the broader sense and in communication for seniors in the narrower sense. To achieve this, the branding professionals based in Leonding and Munich relied on their recipe that has been tried and tested for 50 years: finding out what makes the target group tick and deriving the brand identity and image from this.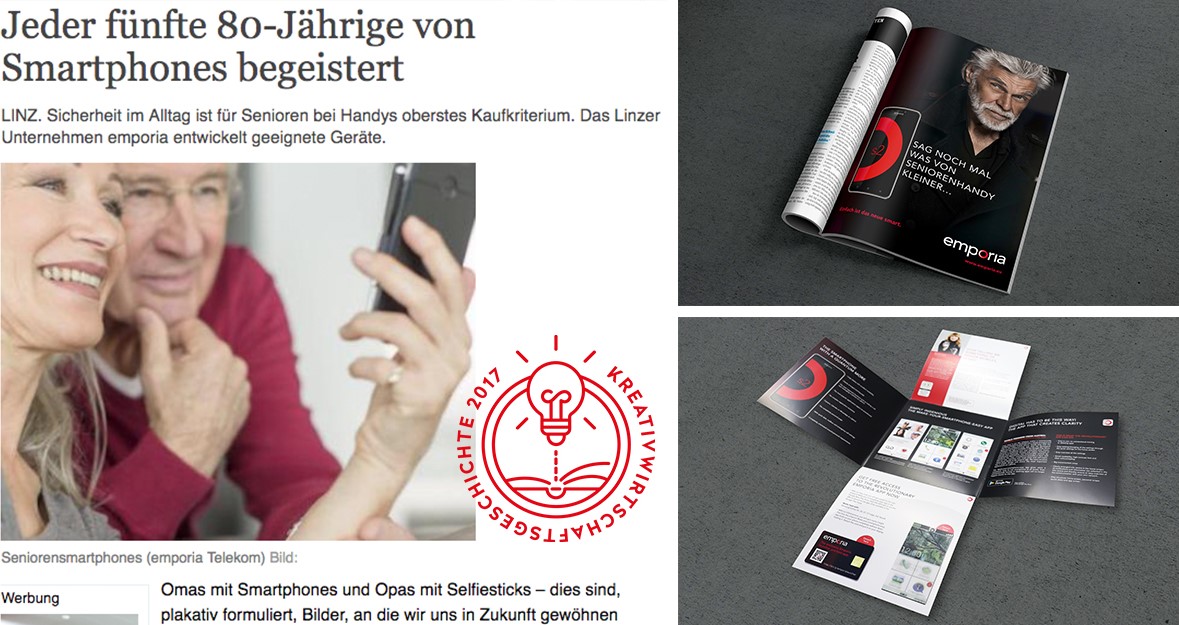 © emporia Telecom & Sery* Brand Communications
Classic PR strategy as the key to success
For emporia, traditional PR tools and storytelling were used almost exclusively, focusing on solutions for people, as well as studies and working methods. Press releases were sent out, interviews and reports were launched, a press conference was organized in cooperation with the Johannes Kepler University Linz and a press trip to the International Consumer Electronics Fair (IFA) was organized. The creative work of the branding experts also included the implementation of a social media strategy and the development of a script for the corporate film.
A topic becomes a self-propelling theme
Numerous media readily picked up on the current topic of communication for seniors and naturally always reported on the emporia brand. The advertising equivalent value of the brand exceeded the resources invested many times over. The result was a stable, meaningful brand image that indirectly boosted sales.
More turnover thanks to creative industry effect
Thanks to the successful brand positioning of Sery*, emporia's sales figures rose sharply in the first six months of the collaboration. For the fiscal year (2017-2018), an increase from 600,000 to 800,000 mobile phones sold and a sales increase of seven million euros is expected.
Once again, it has been shown that the positive effect of working with professional creative people can be measured directly in euros and that creative economy stories can become real success stories within a very short time.
The shop window for you and your orders
Master carpenter Christian Leidinger and communications expert Nicole Herb discovered their passion for sustainable products with sense.

Easy to use mobile phones need easy to understand communication measures.

The design collective Anti-Form brings the feeling of freedom of a new generation of travel to the vans of Indie Campers.

When a rather dry subject like balance sheet accounting turns into a relaunch of the finest.

How a sparkling grape juice becomes successful through good brand design

How does bread taste when you breathe a soul into it?

An educational game app introduces children to the importance of organic farming

An image spot catapults a sugar-free sports bar to undreamed-of heights

The order "A flyer please!" becomes an overall concept for a student residence

The visitor centre of a pellet factory is transformed into a cybernetic light theatre

Much love for detail is the secret recipe of the designer for the confectionery

A ring configurator gives the online shop for diamond rings the final touch

The product developer closes the gap between designers and producers

The cookery courses of the bonnet chef are skilfully staged by the film team

C to the power of 3 - for shoe architect Michaela Worschitz, these were days she didn't spend at her company...

Creative of the month Beautifully gruesome Bruises, scarred faces and bloodthirsty facial expressions - that's exactly what Simone Boria specialises in. Beautifully gruesome Bruises, scarred faces and...

A photo art calendar is the result of a collaboration between photographer Michael Liebert and action artist donhofer.

In the children's book "Where is Luna?" every character and illustration can be both looked at and felt.

Anna Menecia Antenete Hambira is in the process of launching her unisex label //amaaena// and talks in the video series HOW TO...

A native of Vorarlberg and NDU graphic design graduate, Sarah Wehinger set up her own business in St. Pölten in 2020. Typography, book and magazine design inspired...

gabarage upcycling design breathes new life into coats and gilets of staff members from the audience service.

A 100m2 forest oasis on Freiheitsplatz in Graz shows a future model for the natural cooling of urban spaces and gives the...

Marcos Valenzuela is designer of the fashion label Tiberius, founder of the initiative #wirsindzusammen and co-initiator of WIR SIND WIEN, a podcast...

Why is it sometimes advisable not to look dogs in the eye? How do animals perceive their surroundings?...

Cohesion counts double when everyone is in the home office. Consequently, two graphic designers launched a digital platform in October 2020, on...

Photographer Rita Newman takes over the content and artistic direction of the new Master's programme Digital Photography & New Visual Media at...

What if photovoltaic systems could flexibly align themselves according to the sunlight? Three Vorarlbergers found an answer to this question....

Katja Baumgartner and Katharina Kollarits developed a modular exhibition stand for List General Contractor GmbH, which was presented for the first time at the international...

The strength of the C high 3 community is also evident in the pandemic. The creative industries coaching and the associated network support...

Cookbook by NDU graduate Franziska Heiß provides recipes and stories from the Sarntal Valley

In our volatile and fast-moving world, we need solutions that solve real people's problems. Katharina Ehrenmüller...

The fact that creativity and people-centred work come together in the conception and design of exhibitions and mediation formats is a matter of course for the information...

The two Austrian private universities Central European University (CEU) Vienna and New Design University (NDU) St. Pölten, accompanied by the...

Good coffee takes time. So does design that unfolds its effect, says Petra Wieser. For her "Mindful Design Filter Set",...

Cycling can be child's play. When the saddle is properly adjusted, the grips fit little hands and the...

Start-up founders often have to show a lot of courage. This starts with the development of a problem solution and extends to the...

Petra Stelzmüller studied architecture and designed interiors. The designer's heart is set on small objects that have something to...

How can we live in a more climate-friendly way? "With small steps," six C to the power of 3 participants from Lower Austria are convinced. Together they developed...

Thomas Raggam, Anna Tropper and Georg Pock have written kitchen history: Reportages about chefs who worked at the Styrian...

The name of the company is self-explanatory: IT Softhilfe. Small businesses benefit from the external service. And the experts who...

When sustainable design drives corporate strategy, permanent parking lots can become innovative mobility hubs. This is what happened with the brand development of...

Matthias Lechner founded NFBrands.X, Austria's first full-service Web3 and Metaverse agency, and was surprised by it himself.

With her extraordinary design product "Ludo" Theresa Egger manages to combine functionality and design in the living room.

Sending music as an analog, high-quality advertising medium by mail? The Tyroleans Kenneth Winkler and Alexander Wörle make it possible.

Petra Stelzmüller wins with her "Brooch of Thetis" in the category: Excellent Product Design / Lifestyle and Fashion...

Just one bike ride through Vienna is enough and an idea is born. Vienna books are, after all, an...

The new "Creative Lunch Club" by social media marketer Klaus Heller, connects you easily and informally with like-minded people from...

How art and creativity create an incentive to capture a restaurant visit on camera: the cooperation of young artist...

In her book "Creative Intelligence in Business", the author and consultant proves how creativity and entrepreneurship go hand in...

The #glaubandich STARTUP ACADEMY of Erste Bank und Sparkassen, together with REWE Group and Clever Clover, supports founders:inside...

Private balconies in the city are rare, although they not only make life in the city more pleasant and livable,...

In her book "Creative Intelligence in Business", the author and consultant proves how creativity and entrepreneurship go hand in...

Sometimes you just have to listen to be inspired and learn something new. In the case of our Creative of...

Everyone in the design world has certainly come across the Red Dot Design Award at some point, but only a few can...
For you and your company we have