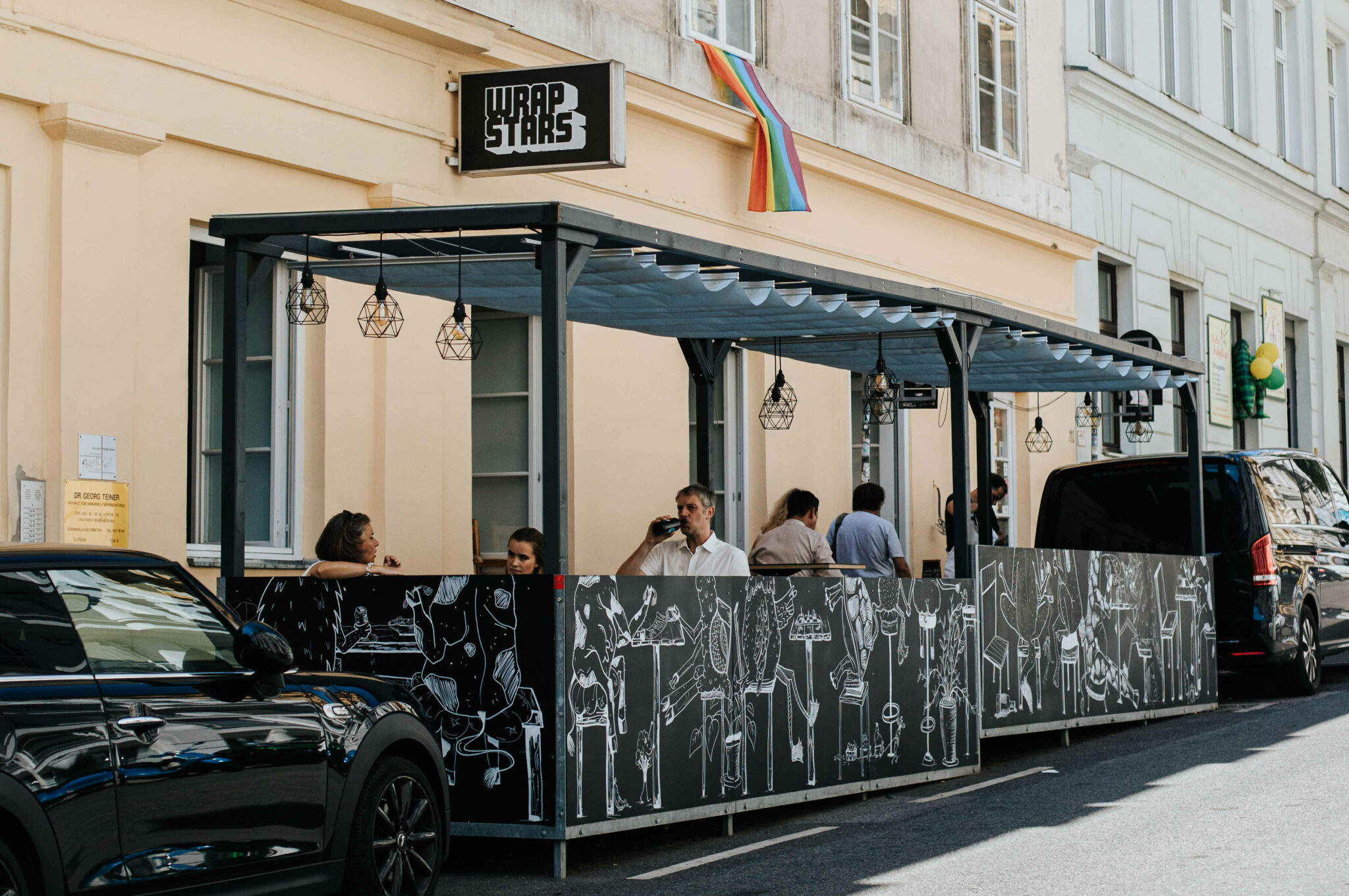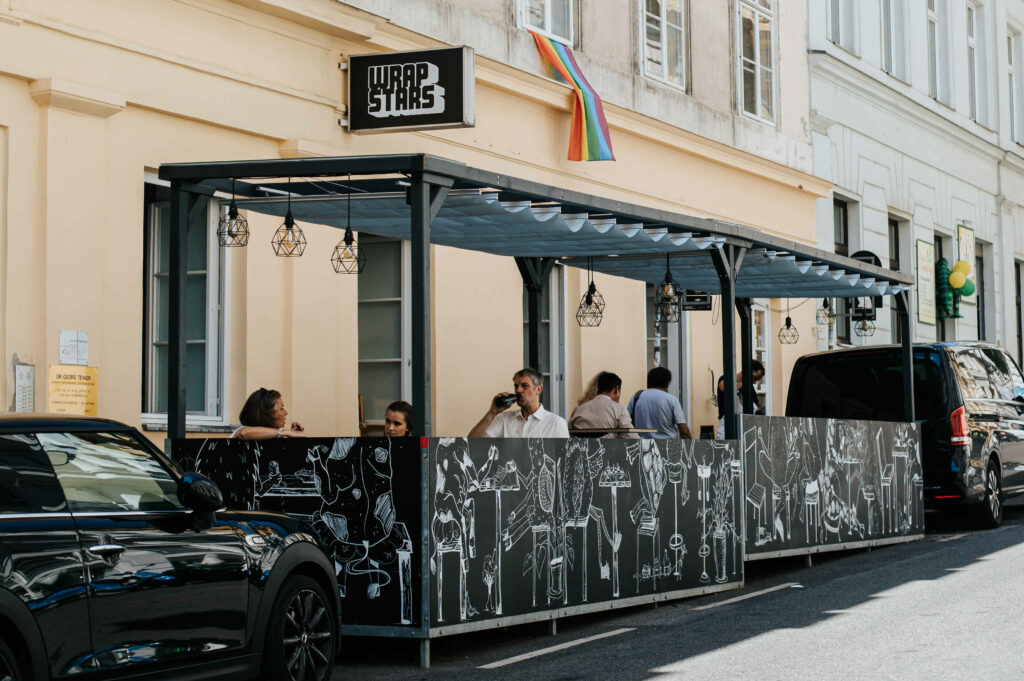 The cooperation of artist and restaurant creates a special kind of guest garden
How art and creativity create an incentive to capture a restaurant visit on camera: the cooperation of young artist Julia Auly with fast food pioneer Wrapstars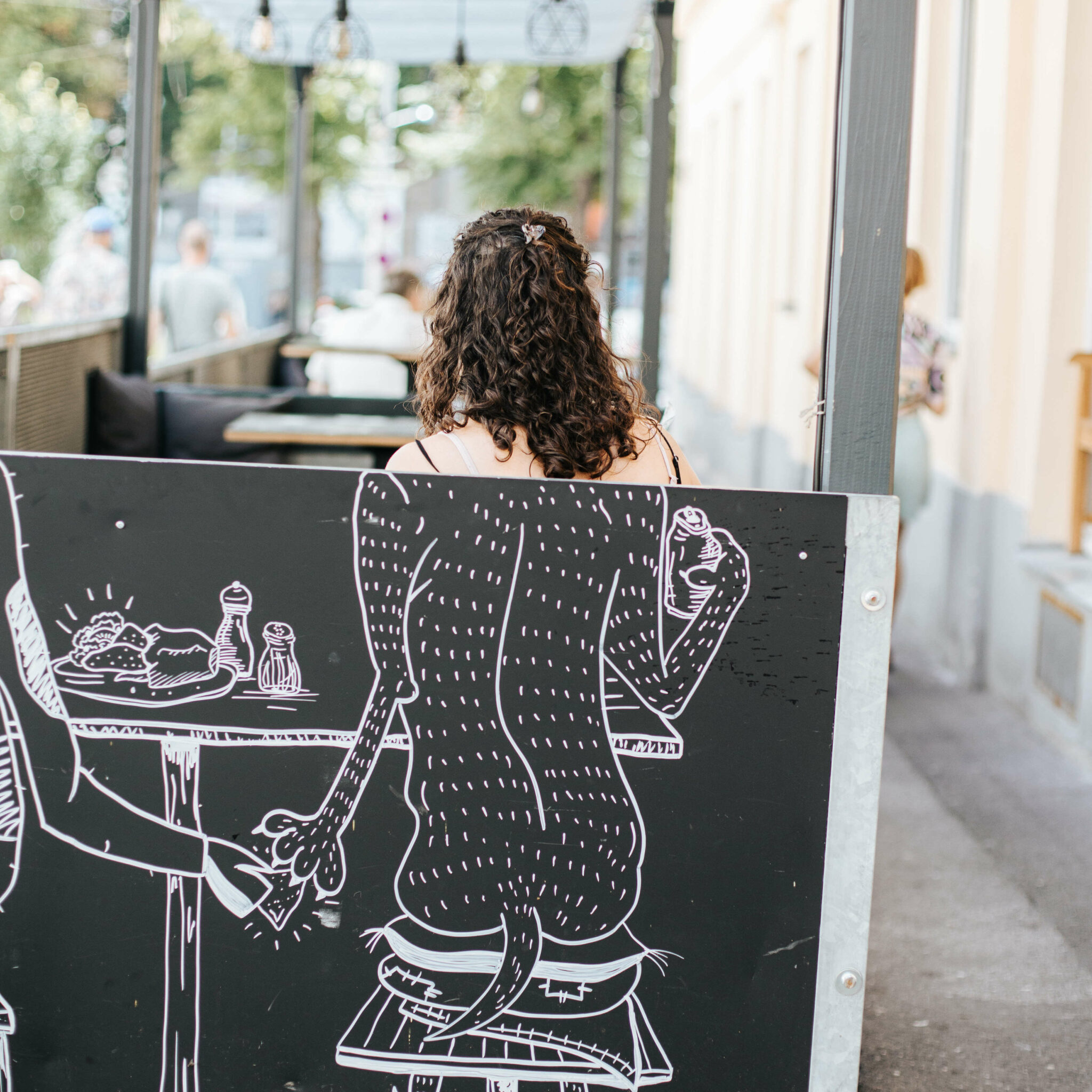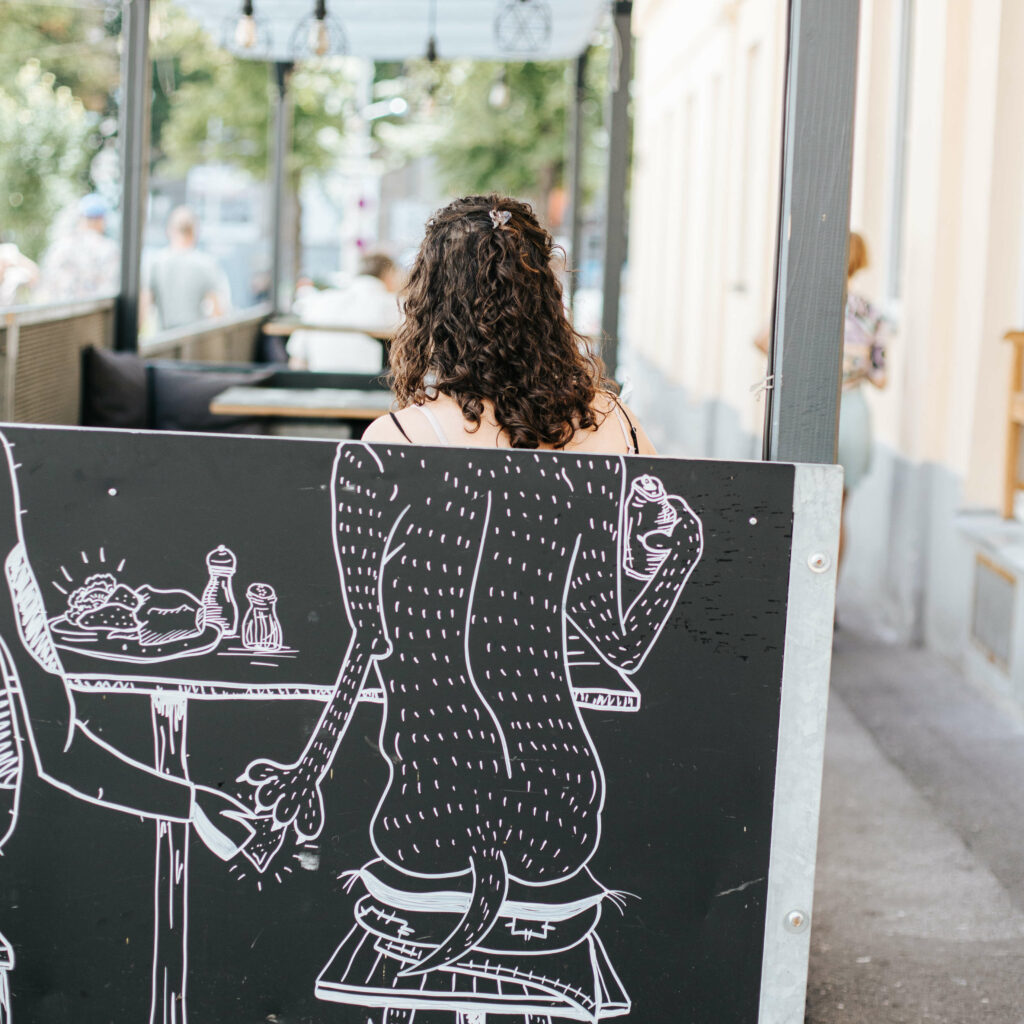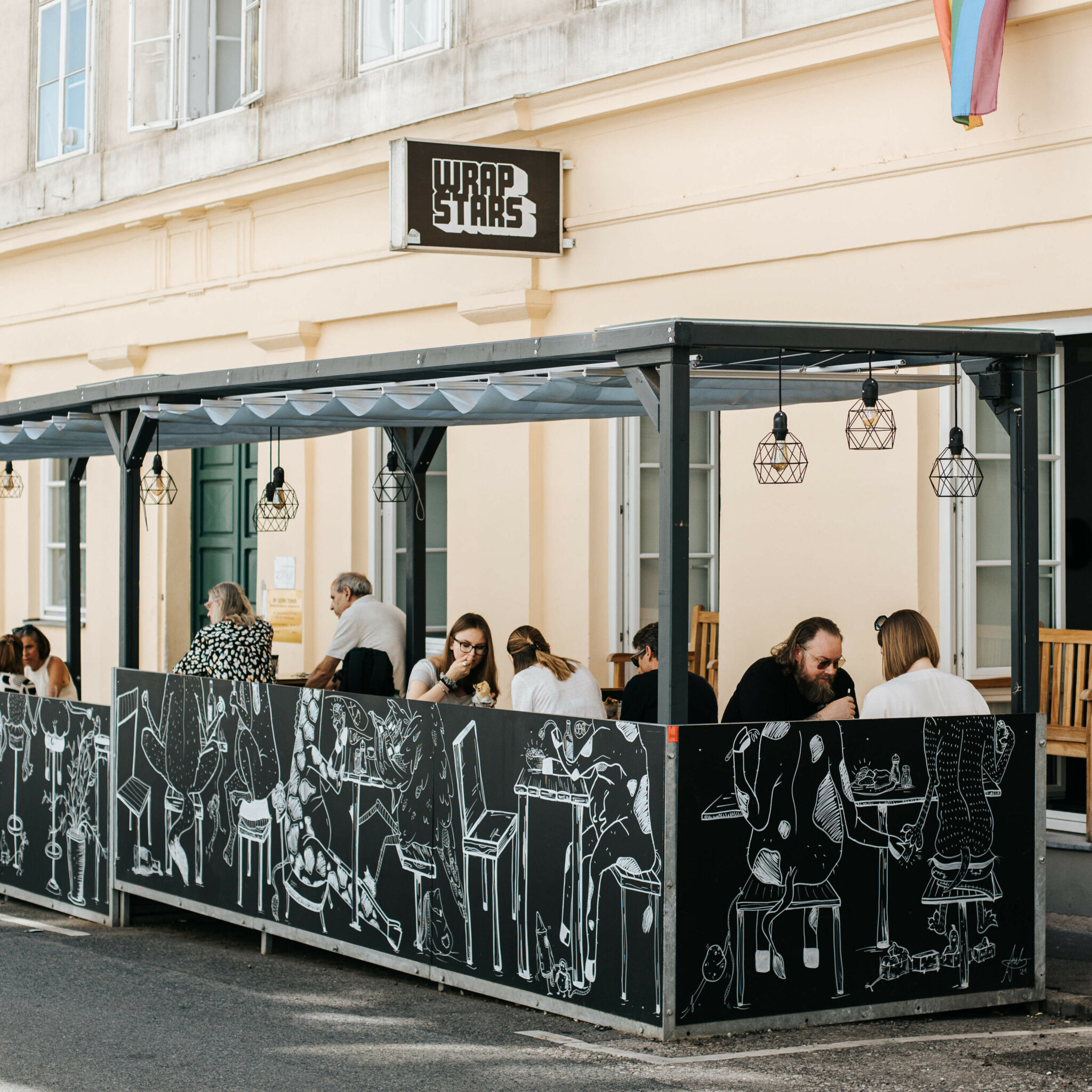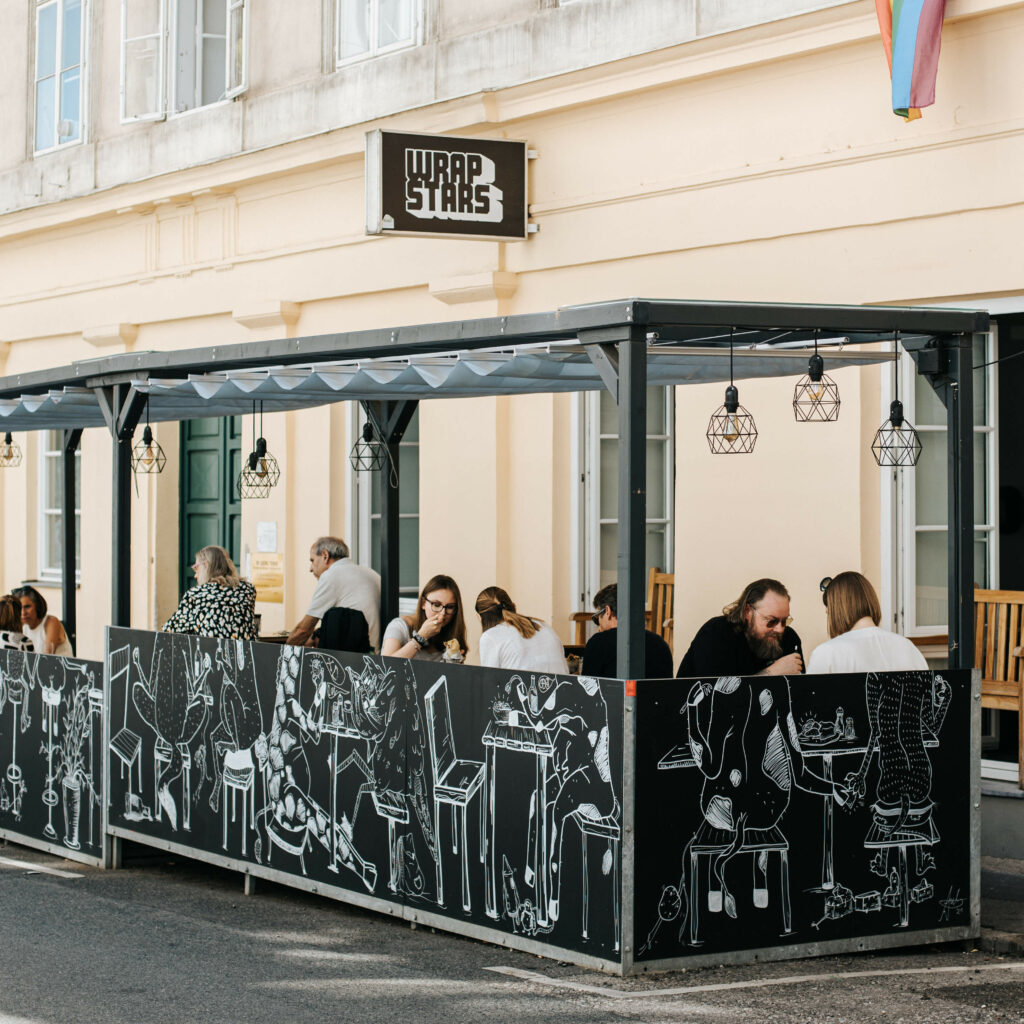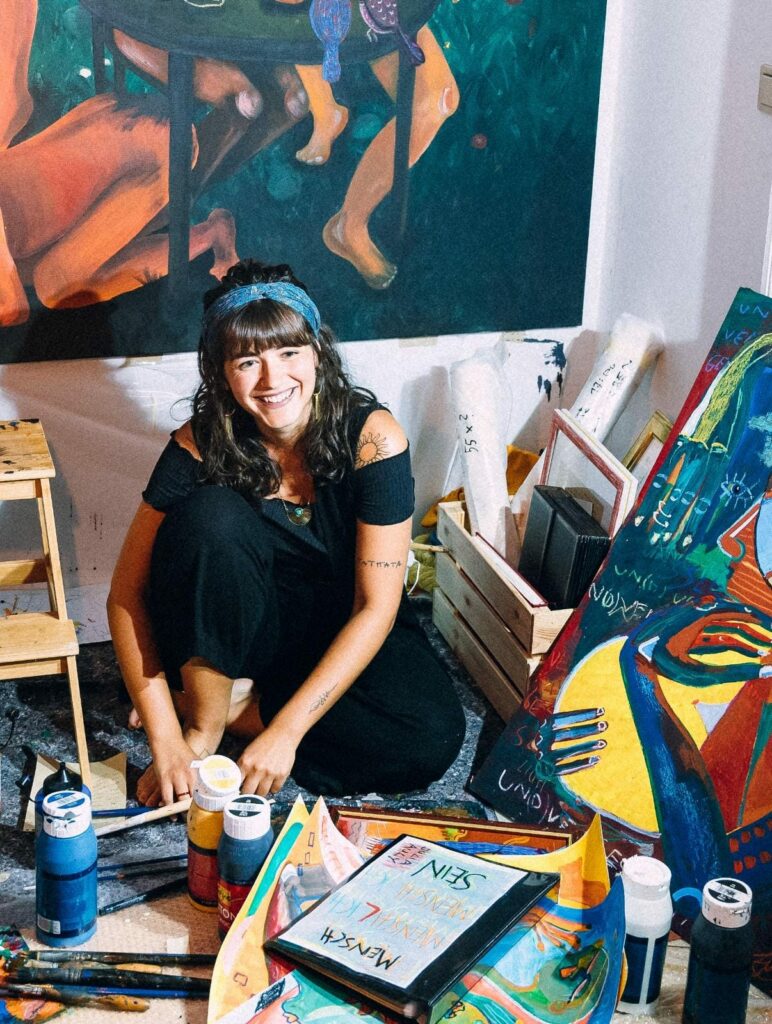 Photo by Gabriel Koschier
Cooperation between locals and artists is a win-win situation for both sides. Locals benefit from the originality and creativity of artists, while artists can promote themselves to a wider audience and showcase their work by collaborating with locals. Events, pop-ups or permanent art installations can attract new audiences and encourage photo sharing on social media.
This month it's all about Viennese artist Julia Auly in collaboration with Wrapstars restaurant in Vienna. Julia Auly designed Wrapstars' guest garden by hand-painting playful animal figures without heads on black guest garden covers. The fun part of the design is that Wrapstars customers sitting in the guest garden look like they have matching heads to the drawings.
The challenge for the artist was to transform her thoughts from a sheet of paper, i.e. 2D, into a large 3D work of art, in which the person becomes part of the image. The intention of the design was a fun and unique outdoor advertising, which is not an everyday advertising space, but playfully represents the brand. Ms. Auly's work thus creates an optical illusion that becomes a perfect photo hotspot, generating wide online/social media distribution for the Wrapstars brand.
Inspiration from artists
Collaboration with artists can also lead to establishments being inspired by the creativity and originality of artists. As a result, venues develop new products or redesign their interior, attracting the attention of the public. This was also the case in the cooperation with Wrapstars and Ms. Auly.
It all started with a competition announcement by Wrapstars for a new and creative packaging design. Julia Auly came across the call for entries by chance and took on the challenge, submitted sketches and was subsequently crowned the winner of the challenge by Wrapstars. After a cordial meeting, it immediately became clear that the chemistry between the customer and the artist was a perfect match, and through the trust that arose from the collaboration, Ms. Auly was also hired for the packaging boxes and the design of the guest garden.
About the artist
Julia Auly, a talented freelance artist and passionate dreamer, was born and raised in the beautiful city of Vienna. She earned her degree in "Painting and Process" from the Vienna School of Art in 2022. After being taught by some renowned artist:s like Ulrich Plieschnig, Anna Stangl and Julia Maurer.
Julia's seemingly endless creativity is evident in various art forms such as writing, drawing, screen printing and painting, allowing her to use a wide range of styles and materials to express her profound ideas. She tries to use her art as a bridge between reality and the fantasy world, offering viewers a unique art experience that takes them to where anything seems possible. In doing so, she proves that art is a powerful language that can transcend all language barriers to convey principles in a memorable and profound way. Her creativity and pursuit of beauty and harmony make her a true master of her craft. After the success of her art project, the artist is now considering going into business for herself with these offerings. More art from Julia can be found here