The brand-new guide for insurance brokers is here!
Get the transformation guide for insurance brokers and benefit as an entrepreneur from the expertise and advice of professionals from the creative industries on how to make your business fit for the future.
In the guide for insurance brokers you will find tips and the major trends in the industry on topics such as positioning and storytelling, customer journey, service design, digital communication, digital tools and cooperations.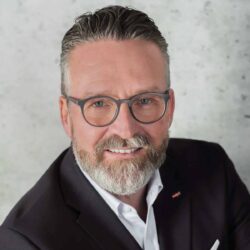 Christoph Berghammer, MAS
Chairman of the professional association of insurance brokers and consultants in insurance matters
"We have a regulated industry that is based on EU criteria and requires qualification exams. However, what you don't learn on a school bench is direct, personal and trusting contact and access to customers. We are directly "at the customer's" side, maintain long-standing business relationships, and should regard this as our enormous strength. Let's make much more aggressive use of the opportunities offered by digitization. Let's think and plan communication with customers in a new and sustainable way. Let's reorganize ourselves in such a way that the ever-increasing flood of administrative tasks that is being shifted into our field blocks us less in our personal customer relationships. Let's create smart "detours" around outdated software that we often have to work with.
This guide is intended to inspire you to view digitization, services and technologies in a value-creating way. To work out your own individual, strong positioning in the market sharply and clearly and to have the relevance for the customer in focus every day."
Our creative experts
In this guide, a valuable collection of suggestions and concrete tips has been created with and for your industry. The insights and results come from our industry transformation processes. We asked the following experts who have accompanied these processes to give us their most important transformation tips:
Storytelling and positioning
Sabrina Oswald
Service Design and Customer. Journey
Silvia Weber
Digital Communication and Digital Tools
Benjamin Pazdernik 
Open Innovation
Katrin Roseneder
Impressions from the transformation workshop
How do you make the "creative economy effect" tangible? We have captured the tips, possible potentials, the atmosphere and the exchange in the transformation workshop in this video. One thing becomes clear: creative + economy = effect!
Have fun looking inside.
PGlmcmFtZSB0aXRsZT0iVHJhbnNmb3JtYXRpb25zd29ya3Nob3AgZsO8ciBWZXJzaWNoZXJ1bmdzbWFrbGVyKmlubmVuIiB3aWR0aD0iMTIwMCIgaGVpZ2h0PSI2NzUiIHNyYz0iaHR0cHM6Ly93d3cueW91dHViZS1ub2Nvb2tpZS5jb20vZW1iZWQvOE5jQVFHZkZuUGs/ZmVhdHVyZT1vZW1iZWQiIGZyYW1lYm9yZGVyPSIwIiBhbGxvdz0iYWNjZWxlcm9tZXRlcjsgYXV0b3BsYXk7IGNsaXBib2FyZC13cml0ZTsgZW5jcnlwdGVkLW1lZGlhOyBneXJvc2NvcGU7IHBpY3R1cmUtaW4tcGljdHVyZSIgYWxsb3dmdWxsc2NyZWVuPjwvaWZyYW1lPg==