The brand new guide for dance schools is here!
Get the Transformation Guide for Dance Schools and benefit as an entrepreneur from the expertise and advice of professionals from the creative industries on how to make your business fit for the future.
In the guide for dance schools, you'll find tips and the big trends in the industry on key areas such as positioning, service design, employer branding, digital communications and e-commerce.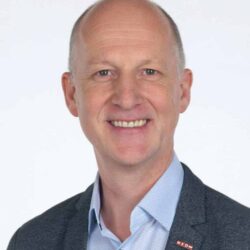 Andy Wankmüller
Chairman of the WKK's Leisure and Sports Businesses Section
"We have accomplished a lot! In the last two years, some in our industry have invested significantly in innovation, digitization and new products. But it has also become clear that the traditional dance school business model has come under a lot of pressure. However, we have good news: Completely new, complementary product ideas are helping us generate potential new revenue. A younger audience, which can be reached with "younger" communication channels and e.g. influencers*, loves new dance and movement styles. Similarly, the growing over-50 demographic is also more agile, body-conscious, and fun-loving.
Our personal contact with customers and our competence are our great strengths. Now we have to refresh our "classic models" with new approaches from the leisure industry (gastronomy, services, etc.) or through cooperations and lead to a good, individual business approach.
We need to communicate even more clearly how much and what good advice we offer - especially via social media platforms and digital channels. Our services are an experience that brings joy to life through movement and music. Let's make that transparent and communicate this joy.
Enjoy and be inspired while reading!"
Our creative experts
In this guide, a valuable collection of suggestions and concrete tips has been created with and for your industry. The insights and results come from our industry transformation processes. We asked the following experts who have accompanied these processes to give us their most important transformation tips:
Storytelling and positioning
Sabrina Oswald
Service design and business model development
Heidrun Girz
Social media and influencer marketing
Digital Tools & E-Commerce
Open Innovation
Katrin Roseneder
Employer Branding
Stefanie Schöffmann
Impressions from the transformation workshop
How do you make the "creative economy effect" tangible? We have captured the tips, possible potentials, the atmosphere and the exchange in the transformation workshop in this video. One thing becomes clear: creative + economy = effect!
Have fun looking inside.
PGlmcmFtZSB0aXRsZT0iVHJhbnNmb3JtYXRpb25zd29ya3Nob3AgZsO8ciBUYW56c2NodWxlbiIgd2lkdGg9IjUwMCIgaGVpZ2h0PSIyODEiIHNyYz0iaHR0cHM6Ly93d3cueW91dHViZS1ub2Nvb2tpZS5jb20vZW1iZWQvbWpEWFR4RF9PaFk/ZmVhdHVyZT1vZW1iZWQmIzAzODtyZWw9MCIgZnJhbWVib3JkZXI9IjAiIGFsbG93PSJhY2NlbGVyb21ldGVyOyBhdXRvcGxheTsgY2xpcGJvYXJkLXdyaXRlOyBlbmNyeXB0ZWQtbWVkaWE7IGd5cm9zY29wZTsgcGljdHVyZS1pbi1waWN0dXJlOyB3ZWItc2hhcmUiIGFsbG93ZnVsbHNjcmVlbj48L2lmcmFtZT4=