The brand-new guide for travel agencies is here!
Get the guide to transformation for travel agencies and benefit as an entrepreneur from the expertise and advice of professionals from the creative industries on how to make your business fit for the future.
In the Guide for Travel Agents, you'll find tips and the big trends in the industry on key areas such as positioning and storytelling, customer journey, service design, digital communications, digital tools and collaborations.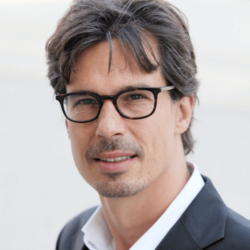 Gregor Kadanka
Chairman of the Association of Travel Agencies, WKÖ
"The travel industry is currently facing a variety of challenges. There is a sharp drop in sales, a constant stream of new travel requirements, and a lot of irritation among travelers. In the future, we will therefore be asked to provide even more advice and personal commitment when it comes to vacation planning - both analog and digital. For these tasks, we are challenged to position ourselves as an industry - and as each and every individual, as entrepreneurs.
The start of this transformation process, which we implemented together with the creative industry at precisely this challenging time, has brought a clearly positive jolt. This guide is intended to put these impulses in writing and make them available to everyone in the travel agency industry. It is important to us to show how important it is to work together with creative people and their impulses in order to break through one's own boundaries of thinking, strategy and know-how."
Our creative experts
In this guide, a valuable collection of suggestions and concrete tips has been created with and for your industry. The insights and results come from our industry transformation processes. We asked the following experts who have accompanied these processes to give us their most important transformation tips:
Storytelling and positioning
Sabrina Oswald
Social media and influencer marketing
Richard Haderer
Interior design and physical & digital appearance
© Daniel Willinger Photography
© winnovation consulting GmbH
Impressions from the transformation workshop
How do you make the "creative economy effect" tangible? We have captured the tips, possible potentials, the atmosphere and the exchange in the transformation workshop in this video. One thing becomes clear: creative + economy = effect!
Have fun looking inside.
PGlmcmFtZSB0aXRsZT0iVHJhbnNmb3JtYXRpb25zd29ya3Nob3AgZsO8ciBSZWlzZWLDvHJvcyIgd2lkdGg9IjEyMDAiIGhlaWdodD0iNjc1IiBzcmM9Imh0dHBzOi8vd3d3LnlvdXR1YmUtbm9jb29raWUuY29tL2VtYmVkLzRSWlZFck5aeDVVP2ZlYXR1cmU9b2VtYmVkIiBmcmFtZWJvcmRlcj0iMCIgYWxsb3c9ImFjY2VsZXJvbWV0ZXI7IGF1dG9wbGF5OyBjbGlwYm9hcmQtd3JpdGU7IGVuY3J5cHRlZC1tZWRpYTsgZ3lyb3Njb3BlOyBwaWN0dXJlLWluLXBpY3R1cmUiIGFsbG93ZnVsbHNjcmVlbj48L2lmcmFtZT4=