The brand-new guide for producers of arts and crafts objects is here!
Get the Transformation Guide for Arts and Crafts Producers and benefit as an entrepreneur from the expertise and advice of creative industry professionals on how to make your business fit for the future.
In the guide for artisan producers, you'll find tips and the big trends in the industry on topics such as positioning and storytelling, customer journey, service design, digital communication, digital tools, and collaborations.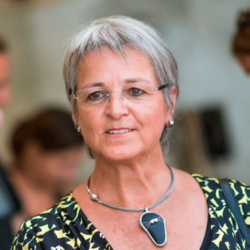 Sieglinde Almesberger
Chairwoman of the Professional Group Production of Decorative Arts, WKÖ
"The last few years have been very difficult for our industry. It is therefore all the more important that we now reposition ourselves and do so with as much passion as we produce our art objects. Austria's population and economy have become much more digital. So we have to position ourselves just as much more digitally and present ourselves and our art objects accordingly.
Digitization offers us new sales opportunities and the chance to reach new customers - globally, to boot. To do this, however, we need to understand how to make the best use of websites and social media. This is quite a challenge, so we should all think about which partnerships or collaborations are the easiest way to do this. How we can track down new trends, get inspiration and also give it.
In order to be prepared for these many tasks, we have worked together with the creative industries to produce this guide. It is intended to give you impetus and point out possibilities, explain them in a comprehensible way and thus make them feasible, which is currently urgently needed.
All the best and good luck!"
Our creative experts
In this guide, a valuable collection of suggestions and concrete tips has been created with and for your industry. The insights and results come from our industry transformation processes. We asked the following experts who have accompanied these processes to give us their most important transformation tips:
Storytelling and positioning
Sabrina Oswald
Service design
Birgit Ariane Mayer
Product development and design
Sofia Podreka
Photo and video
David Kleinl
Open Innovation
Katrin Roseneder
© winnovation consulting GmbH
Influencer Marketing
Richard Haderer
Impressions from the transformation workshop
How do you make the "creative economy effect" tangible? We have captured the tips, possible potentials, the atmosphere and the exchange in the transformation workshop in this video. One thing becomes clear: creative + economy = effect!
Have fun looking inside.
PGlmcmFtZSB0aXRsZT0iVHJhbnNmb3JtYXRpb25zd29ya3Nob3AgZsO8ciBkYXMgS3Vuc3RnZXdlcmJlIiB3aWR0aD0iMTIwMCIgaGVpZ2h0PSI2NzUiIHNyYz0iaHR0cHM6Ly93d3cueW91dHViZS1ub2Nvb2tpZS5jb20vZW1iZWQvaThzem4yY0lzSjA/ZmVhdHVyZT1vZW1iZWQmIzAzODtyZWw9MCIgZnJhbWVib3JkZXI9IjAiIGFsbG93PSJhY2NlbGVyb21ldGVyOyBhdXRvcGxheTsgY2xpcGJvYXJkLXdyaXRlOyBlbmNyeXB0ZWQtbWVkaWE7IGd5cm9zY29wZTsgcGljdHVyZS1pbi1waWN0dXJlIiBhbGxvd2Z1bGxzY3JlZW4+PC9pZnJhbWU+