The brand-new guide for the paper and toy trade is here!
Get the transformation guide for paper and toy retailers and benefit as an entrepreneur from the expertise and advice of professionals from the creative industries on how to make your business fit for the future.
In the guide for paper and toy retailers, you'll find tips and the big trends in the industry on key areas such as positioning and storytelling, customer journey, service design, digital communication, digital tools and collaborations.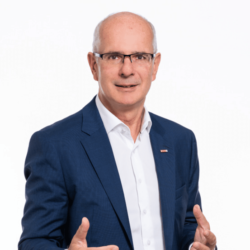 Andreas Auer, MBA
Chairman of the Federal Committee of the Paper and Toy Trade, WKÖ
"We all have to adapt to the trends of the time. Our personal contact with customers, our advisory expertise and the selection in our stores are our great strengths. We need to communicate clearly and more strongly how much we offer and how good our advice is - especially via digital channels.
Each and every one of us has individual strengths and experiences, and it is precisely these that are relevant for consumers. They make our performance and our business distinctive and an experience. Our employees are also part of this experience. Involve them actively in your efforts, develop ideas together and design the activities together.
Collaborations within and outside the industry can also help reach new target groups. To ensure that we as an industry are as well equipped as possible and know how to go about it and what we should tackle, we have worked with the creative industries to implement the guide presented here. This is intended to give you impetus and highlight opportunities.
All the best and good luck!"
Our creative experts
In this guide, a valuable collection of suggestions and concrete tips has been created with and for your industry. The insights and results come from our industry transformation processes. We asked the following experts who have accompanied these processes to give us their most important transformation tips:
Storytelling and positioning
Sabrina Oswald
Product development and design
Heinrich Lentz
Customer interaction and experience design
Sergiu Ardelean
Digital marketing
Benjamin Pazdernik
Architecture and store design
Open Innovation
Katrin Roseneder
Impressions from the transformation workshop
How do you make the "creative economy effect" tangible? We have captured the tips, possible potentials, the atmosphere and the exchange in the transformation workshop in this video. One thing becomes clear: creative + economy = effect!
Have fun looking inside.
PGlmcmFtZSB0aXRsZT0iVHJhbnNmb3JtYXRpb25zd29ya3Nob3AgZsO8ciBkZW4gUGFwaWVyLSB1bmQgU3BpZWx3YXJlbmhhbmRlbCIgd2lkdGg9IjEyMDAiIGhlaWdodD0iNjc1IiBzcmM9Imh0dHBzOi8vd3d3LnlvdXR1YmUtbm9jb29raWUuY29tL2VtYmVkL0J2QTdKdjB6aFlJP2ZlYXR1cmU9b2VtYmVkIiBmcmFtZWJvcmRlcj0iMCIgYWxsb3c9ImFjY2VsZXJvbWV0ZXI7IGF1dG9wbGF5OyBjbGlwYm9hcmQtd3JpdGU7IGVuY3J5cHRlZC1tZWRpYTsgZ3lyb3Njb3BlOyBwaWN0dXJlLWluLXBpY3R1cmUiIGFsbG93ZnVsbHNjcmVlbj48L2lmcmFtZT4=