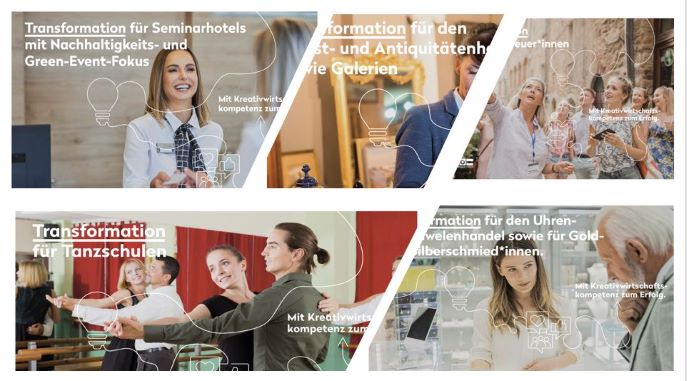 Transformation guides for industries - your guide for your business
Practical, industry-specific suggestions, optimization ideas and tips from the creative industry
In the last two years, we were able to support more than 300 entrepreneurs in the further development of their business in 21 transformation processes for the WKÖ together with the creative industries.
We have summarized the findings and results from the transformation workshops and the tips and ideas from the creative professionals in guides.
Use these industry guides for your work and learn more about the specific business models and needs of your customers from the economy! Help to further and sustainably change Austria's economy and to optimally position it for the current challenges!
From focus group to creative impact
In the transformation workshops, we tackled a number of topics that are currently occupying industries and where the knowledge and skills of the creative industries provide new transformative solutions. We learned about them in focus groups with industry insiders. They told us what the big challenges of entrepreneurs are at the moment. Use this knowledge!
From Employer Branding to Service Design
Whether it's the shortage of staff and skilled workers in the hotel and catering industry or the retention of employees through solid employer branding approaches in the building cleaning sector. Whether it's redesigning store spaces in a jewelry store or integrating digital solutions in the art and antiques trade. We've looked at specialist sourcing, ethnic marketing and employer branding, gamification, service design, communications, digital tools and performances, customer relations and process and organization design with digital tools, positioning, storytelling, product design and more.
And precisely because business models are complex, but only as good as they continuously adapt to new entrepreneurial circumstances, they need a creative view from the outside. This is exactly your "daily bread". Especially now, in times of energy, skilled labor and inflation crises, you are confronted with the need to advise differently and more comprehensively.
Get your guides and delve into the challenges of 21 industries!