The brand-new guide for travel counselors is here!
Get the guide to transformation for travel agents and benefit as an entrepreneur from the expertise and advice of professionals from the creative industries on how to make your business fit for the future.
In the guide for travel agents, you'll find tips and the big trends in the industry on topics such as positioning and storytelling, customer journey, service design, digital communication, digital tools and collaborations.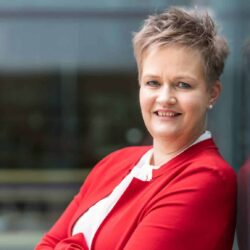 © Roman Huditsch Photography
Astrid Legner
Obfrau professional association leisure and sport enterprises
Austrian Federal Economic Chamber
"Travel restrictions, Corona and the lockdowns have shaken up our business models in recent years.
shaken up our business models. Now come the massive
restrictions due to the geopolitical situation, as well as the costliness of
travel due to rising energy prices. Our business model is upside down
and we have to make sure that we are as organized, communicative and future
communicating and future-oriented.
In a first step, this was made possible within the framework of the transformation workshops
of the Chamber of Commerce. In order to provide all members with this valuable
members with this valuable input, you can use this guide to learn the most important
and valuable tips from experts on our industry and our transformation needs.
transformation needs.
Be inspired to transform!
All the best and good luck!"
Our creative experts
In this guide, a valuable collection of suggestions and concrete tips has been created with and for your industry. The insights and results come from our industry transformation processes. We asked the following experts who have accompanied these processes to give us their most important transformation tips:
Storytelling and positioning
Sabrina Oswald
Business model development
Maria-Theres Zirm
Social media and influencer marketing
Open Innovation
Katrin Roseneder
Impressions from the transformation workshop
How do you make the "creative economy effect" tangible? We have captured the tips, possible potentials, the atmosphere and the exchange in the transformation workshop in this video. One thing becomes clear: creative + economy = effect!
Have fun looking inside.
PGlmcmFtZSB0aXRsZT0iVHJhbnNmb3JtYXRpb25zd29ya3Nob3AgZsO8ciBSZWlzZWxlaXRlcippbm5lbiIgd2lkdGg9IjEyMDAiIGhlaWdodD0iNjc1IiBzcmM9Imh0dHBzOi8vd3d3LnlvdXR1YmUtbm9jb29raWUuY29tL2VtYmVkLzJDSTBRUWt6MUJnP2ZlYXR1cmU9b2VtYmVkIiBmcmFtZWJvcmRlcj0iMCIgYWxsb3c9ImFjY2VsZXJvbWV0ZXI7IGF1dG9wbGF5OyBjbGlwYm9hcmQtd3JpdGU7IGVuY3J5cHRlZC1tZWRpYTsgZ3lyb3Njb3BlOyBwaWN0dXJlLWluLXBpY3R1cmUiIGFsbG93ZnVsbHNjcmVlbj48L2lmcmFtZT4=