The brand-new guide for personal trainers is here!
Get the Transformation Guide for Personal Trainers and benefit as an entrepreneur from the expertise and advice of professionals from the creative industries on how to make your business fit for the future.
In the guide for personal trainers you will find tips and the major trends in the industry on topics such as positioning and storytelling, customer journey, service design, digital communication, digital tools and collaborations.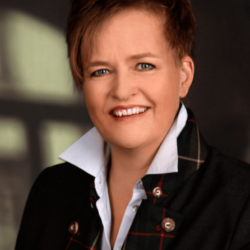 Astrid Legner
Chairwoman of the professional association of leisure and sports businesses, WKÖ
"The personal trainer* industry is facing multiple challenges. There are enormous losses in turnover due to restrictions during the corona-related lockdowns, a digitally very competitive environment and parallel competition with aggressively priced "discount fitness centers". Against this backdrop, what is needed from each and every personal trainer is an unconditional will to transform and to embrace new training methods that combine real, physical and digital training.
These are the tasks we have to face as an industry - and individually as entrepreneurs. This is precisely why our transformation workshops with the WKÖ were not only optimally timed, but also ideally implemented. To have such an intensive exchange with five creative experts and to have the option of choosing which details to include in the coaching sessions was very beneficial for the participants. Now the written impulses should help to create the greatest possible transformation effect for all industry companions."
Our creative experts
In this guide, a valuable collection of suggestions and concrete tips has been created with and for your industry. The insights and results come from our industry transformation processes. We asked the following experts who have accompanied these processes to give us their most important transformation tips:
Storytelling and positioning
Sabrina Oswald
Social media and influencer marketing
Florian Bösenkopf
Impressions from the transformation workshop
How do you make the "creative economy effect" tangible? We have captured the tips, possible potentials, the atmosphere and the exchange in the transformation workshop in this video. One thing becomes clear: creative + economy = effect!
Have fun looking inside.
PGlmcmFtZSB0aXRsZT0iVHJhbnNmb3JtYXRpb25zd29ya3Nob3AgZsO8ciBQZXJzb25hbCBUcmFpbmVyaW5uZW4gdW5kIFRyYWluZXIiIHdpZHRoPSIxMjAwIiBoZWlnaHQ9IjY3NSIgc3JjPSJodHRwczovL3d3dy55b3V0dWJlLW5vY29va2llLmNvbS9lbWJlZC9mSWZfSUVJY2N4VT9mZWF0dXJlPW9lbWJlZCIgZnJhbWVib3JkZXI9IjAiIGFsbG93PSJhY2NlbGVyb21ldGVyOyBhdXRvcGxheTsgY2xpcGJvYXJkLXdyaXRlOyBlbmNyeXB0ZWQtbWVkaWE7IGd5cm9zY29wZTsgcGljdHVyZS1pbi1waWN0dXJlIiBhbGxvd2Z1bGxzY3JlZW4+PC9pZnJhbWU+