The brand-new guide for print shops is here!
Get the Transformation Guide for Print Shops and benefit as an entrepreneur from the expertise and advice of professionals from the creative industries on how to make your business fit for the future.
In the printers' guide, you'll find tips and the big trends in the industry on key areas such as positioning and storytelling, customer journey, service design, digital communications, digital tools and collaborations.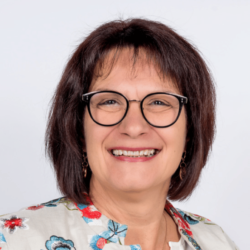 KR Ingeborg Dockner
Chairwoman trade association printing
"In recent years, we have felt strongly what it means when business, art, culture, events and others have to "take a break" in Austria. And we will continue to have to assert ourselves against the growing international competition. To do so, it will be essential to leverage our strengths and use digital technologies and infrastructures to our advantage. Customers are looking for more emotions and experiences, and they are also demanding greater specialization.
Unique selling points can be created here. We must build on our great expertise and quality of advice and offer new, individualized and special services. Tailored communication via digital channels helps us to reach customers better and more individually, and also to inspire them. This inspiration from us experts is needed because people and companies are constantly on the lookout for new things. The issues of sustainability and environmental protection are also becoming more important in our industry - younger people in particular attach great importance to more careful production processes.
To ensure that we are as well equipped as possible for these many tasks, we have drawn up this guide together with the creative industries. It is intended to give you impetus, point out possibilities, explain them in a comprehensible way and thus make it possible to implement what is currently urgently needed.
All the best and good luck!"
Our creative experts
In this guide, a valuable collection of suggestions and concrete tips has been created with and for your industry. The insights and results come from our industry transformation processes. We asked the following experts who have accompanied these processes to give us their most important transformation tips:
Storytelling and positioning
Sabrina Oswald
Use of customer data
Harald Sattler
Web design and e-commerce
Manuel Zellnig
Product development and design
Heinrich Lentz
Experience design and customer interaction
Open Innovation
Lena Müller-Kress
© winnovation consulting GmbH
Impressions from the transformation workshop
How do you make the "creative economy effect" tangible? We have captured the tips, possible potentials, the atmosphere and the exchange in the transformation workshop in this video. One thing becomes clear: creative + economy = effect!
Have fun looking inside.
PGlmcmFtZSB0aXRsZT0iVHJhbnNmb3JtYXRpb25zd29ya3Nob3AgZsO8ciBEcnVja2VyZWllbiIgd2lkdGg9IjEyMDAiIGhlaWdodD0iNjc1IiBzcmM9Imh0dHBzOi8vd3d3LnlvdXR1YmUtbm9jb29raWUuY29tL2VtYmVkLzd3Y1I4SGhITWdjP2ZlYXR1cmU9b2VtYmVkIiBmcmFtZWJvcmRlcj0iMCIgYWxsb3c9ImFjY2VsZXJvbWV0ZXI7IGF1dG9wbGF5OyBjbGlwYm9hcmQtd3JpdGU7IGVuY3J5cHRlZC1tZWRpYTsgZ3lyb3Njb3BlOyBwaWN0dXJlLWluLXBpY3R1cmUiIGFsbG93ZnVsbHNjcmVlbj48L2lmcmFtZT4=