The brand-new guide for florists is here!
Get the transformation guide for florists and benefit as an entrepreneur from the expertise and advice of professionals from the creative industries on how to make your business fit for the future.
In the Florist's Guide, you'll find tips and the big trends in the industry on topics such as positioning and storytelling, customer journey, service design, digital communication, digital tools and collaborations.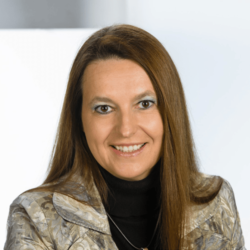 Anka Lorencz
Managing Director Federal Guild of Gardeners and Florists
"In recent years, many entrepreneurs have confronted the crisis by adopting new approaches and new forms of customer relations and sales. The fact that it has been possible to fight for delivery options, click & collect and financial support for the industry has been extremely important for many companies in order to be able to continue to exist on the market.
Nevertheless, there is still considerable pressure on florists to generate sales. Although the customer's own home, including the floral design, has once again become much more important, the requirements for this have also changed. The access to and the will to deal with digital channels and social networks is still rather low in the floristry industry, even if there were wonderful approaches in many companies during the crisis.
How do you react to such a changed environment? What new competitive situations arise on the market? How can and should one make optimal use of digital channels? These and many other questions prompted us to take advantage of the invitation to participate in a transformation workshop. The intensive exchange with colleagues and creative experts under the perfect leadership of Kreativwirtschaft Austria made these coaching sessions a valuable impulse for the participants."
Our creative experts
In this guide, a valuable collection of suggestions and concrete tips has been created with and for your industry. The insights and results come from our industry transformation processes. We asked the following experts who have accompanied these processes to give us their most important transformation tips:
Storytelling and positioning
Sabrina Oswald
Digital marketing, web design and e-commerce
Manuel Zellnig
Social media and influencer marketing
Branko Markovic
Physical and digital appearance
Heidemarie Kriz
© Daniel Willinger Photography
Open Innovation
Lena Müller-Kress
© winnovation consulting GmbH
Impressions from the transformation workshop
How do you make the "creative economy effect" tangible? We have captured the tips, possible potentials, the atmosphere and the exchange in the transformation workshop in this video. One thing becomes clear: creative + economy = effect!
Have fun looking inside.
PGlmcmFtZSB0aXRsZT0iVHJhbnNmb3JtYXRpb25zd29ya3Nob3AgZsO8ciBGbG9yaXN0aW5uZW4gdW5kIEZsb3Jpc3RlbiIgd2lkdGg9IjEyMDAiIGhlaWdodD0iNjc1IiBzcmM9Imh0dHBzOi8vd3d3LnlvdXR1YmUtbm9jb29raWUuY29tL2VtYmVkLzJGSTZtNkxBZmxBP2ZlYXR1cmU9b2VtYmVkIiBmcmFtZWJvcmRlcj0iMCIgYWxsb3c9ImFjY2VsZXJvbWV0ZXI7IGF1dG9wbGF5OyBjbGlwYm9hcmQtd3JpdGU7IGVuY3J5cHRlZC1tZWRpYTsgZ3lyb3Njb3BlOyBwaWN0dXJlLWluLXBpY3R1cmUiIGFsbG93ZnVsbHNjcmVlbj48L2lmcmFtZT4=