The brand-new guide for the textile trade is here!
Get the guide to transformation for the textile trade and benefit as an entrepreneur from the expertise and advice of professionals from the creative industries on how to make your business fit for the future.
In the textile retail guide, you'll find tips and the industry's big trends on key areas such as positioning and storytelling, customer journey, service design, digital communication, digital tools and collaborations.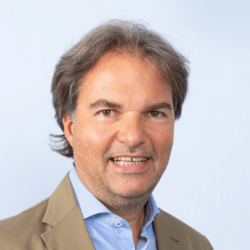 KommR Günther Rossmanith
Chairman of the Federal Board of Trade with fashion and leisure articles, WKÖ
"Much has changed since the beginning of 2020. Online shopping has become an alternative for more and more consumers. Home offices also mean that fewer people on the move see the great range of products in our stores. Therefore, we have to adapt to the trends of the time, position ourselves better and communicate more digitally. Our stores and the personal advice provided by our employees are our greatest strengths. To make sure that everyone knows about this, we need to make ourselves fit for digital and social channels and also offer our products in online stores.
At the same time, consumers also need new experiences in the stores. That's a lot of challenges to be met at once. To ensure that we are all best equipped for precisely these tasks, we have implemented this transformation process together with the creative industries in these challenging times. The guide is intended to capture these impulses and make them available and implementable in the textile trade.
All the best and good luck!"
Our creative experts
In this guide, a valuable collection of suggestions and concrete tips has been created with and for your industry. The insights and results come from our industry transformation processes. We asked the following experts who have accompanied these processes to give us their most important transformation tips:
Storytelling and positioning
Sabrina Oswald
Service design and cooperations
Katharina Ehrenmüller
Open Innovation
Katrin Roseneder
Impressions from the transformation workshop
How do you make the "creative economy effect" tangible? We have captured the tips, possible potentials, the atmosphere and the exchange in the transformation workshop in this video. One thing becomes clear: creative + economy = effect!
Have fun looking inside.
PGlmcmFtZSB0aXRsZT0iVHJhbnNmb3JtYXRpb25zd29ya3Nob3AgZsO8ciBkZW4gVGV4dGlsaGFuZGVsIiB3aWR0aD0iMTIwMCIgaGVpZ2h0PSI2NzUiIHNyYz0iaHR0cHM6Ly93d3cueW91dHViZS1ub2Nvb2tpZS5jb20vZW1iZWQvNXhLbnFJV1FrYlU/ZmVhdHVyZT1vZW1iZWQmIzAzODtyZWw9MCIgZnJhbWVib3JkZXI9IjAiIGFsbG93PSJhY2NlbGVyb21ldGVyOyBhdXRvcGxheTsgY2xpcGJvYXJkLXdyaXRlOyBlbmNyeXB0ZWQtbWVkaWE7IGd5cm9zY29wZTsgcGljdHVyZS1pbi1waWN0dXJlIiBhbGxvd2Z1bGxzY3JlZW4+PC9pZnJhbWU+