The brand-new guide for the book trade is here!
Get the transformation guide for the book trade and benefit as an entrepreneur from the expertise and advice of professionals from the creative industries on how to make your business fit for the future.
In the Guide to Bookselling, you'll find tips and the big trends in the industry on key areas such as positioning and storytelling, customer journey, service design, digital communications, digital tools, and collaborations.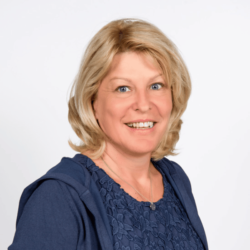 Irene Alexowsky
FG Chairwoman Book and Media Industry, Lower Austria
"Many booksellers have rapidly learned to think and communicate more digitally in recent years. This is the only way to reach young target groups and get them excited about reading. We are required to position ourselves more clearly, more comprehensibly and, in part, also through specializations. If our consumers know what we stand for and can access our excellent quality of advice, they will get the added value they need to compete with large online companies.
This means that we have to think about new services and offers and be able to implement them both in the store and online. Digitization may be a challenge for all of us, but it is also an opportunity. Because thanks to it, we can offer our expertise and quality of advice far beyond the local catchment area. Digital and analog are not two separate worlds, but can merge in many creative ways. To ensure that we are as well equipped as possible for all these many tasks, we have worked with the creative industries to implement the guide presented here. It is intended to give you impulses, point out possibilities, explain them in a comprehensible way and thus make it possible to implement what is currently urgently needed.
All the best and good luck!"
Our creative experts
In this guide, a valuable collection of suggestions and concrete tips has been created with and for your industry. The insights and results come from our industry transformation processes. We asked the following experts who have accompanied these processes to give us their most important transformation tips:
Storytelling and positioning
Sabrina Oswald
Service design
Isabelle Natter-Spets
Digital communication and experience design
Max Niederschick
Online sales and platforms
Simon intoxication
Architecture and store design
Open Innovation
Gertraud Leimüller
Impressions from the transformation workshop
How do you make the "creative economy effect" tangible? We have captured the tips, possible potentials, the atmosphere and the exchange in the transformation workshop in this video. One thing becomes clear: creative + economy = effect!
Have fun looking inside.
PGlmcmFtZSB0aXRsZT0iVHJhbnNmb3JtYXRpb25zd29ya3Nob3AgZsO8ciBkZW4gQnVjaGhhbmRlbCIgd2lkdGg9IjEyMDAiIGhlaWdodD0iNjc1IiBzcmM9Imh0dHBzOi8vd3d3LnlvdXR1YmUtbm9jb29raWUuY29tL2VtYmVkL1lWeVl6cmphT0hFP2ZlYXR1cmU9b2VtYmVkIiBmcmFtZWJvcmRlcj0iMCIgYWxsb3c9ImFjY2VsZXJvbWV0ZXI7IGF1dG9wbGF5OyBjbGlwYm9hcmQtd3JpdGU7IGVuY3J5cHRlZC1tZWRpYTsgZ3lyb3Njb3BlOyBwaWN0dXJlLWluLXBpY3R1cmUiIGFsbG93ZnVsbHNjcmVlbj48L2lmcmFtZT4=