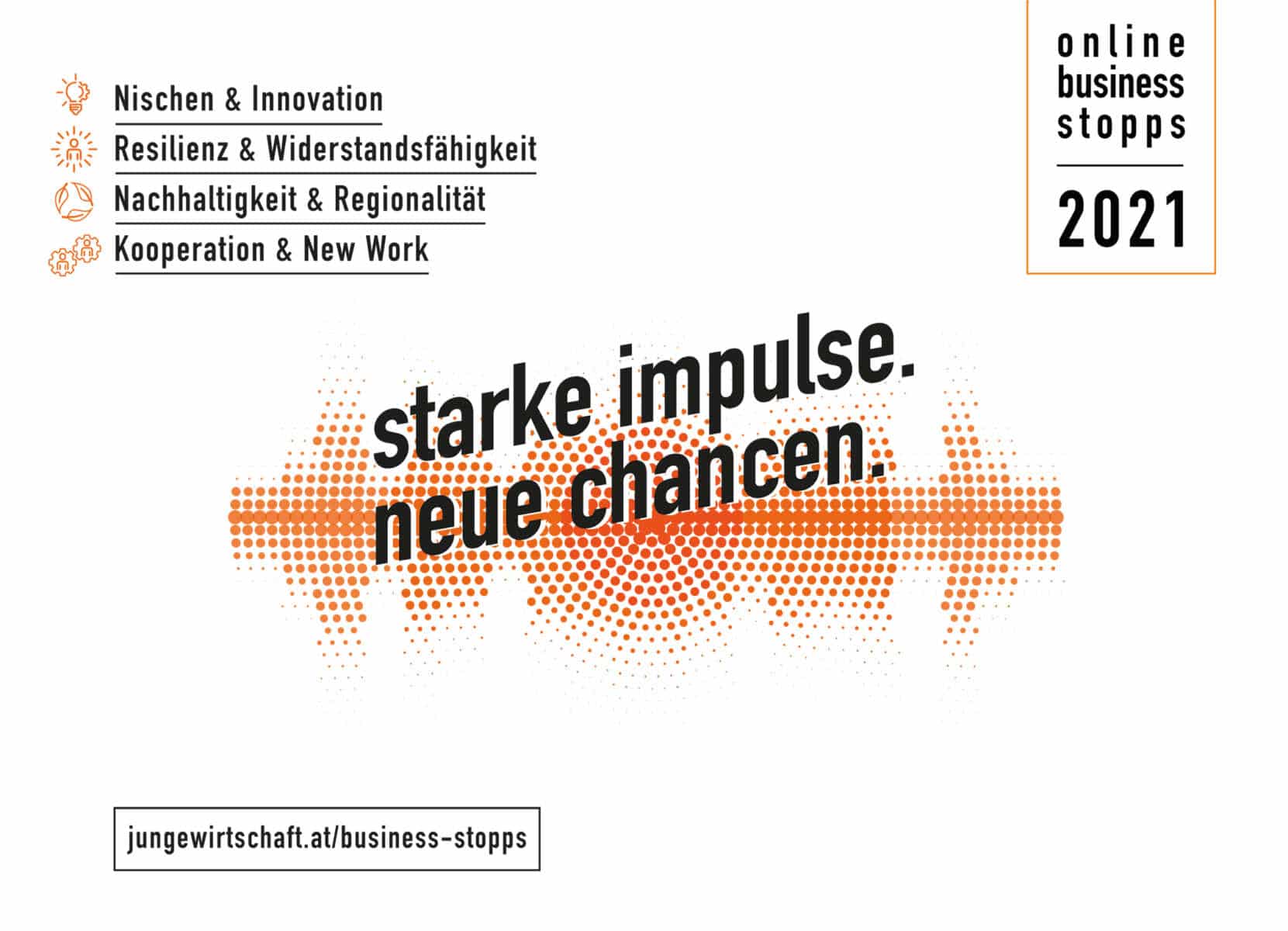 Online Business Stops 2021
Corona requires a real fresh start in some companies. A new service from Junge Wirtschaft helps with this: the new online business stops bring new perspectives on business, top-class expert knowledge, exciting cooperation partners and strong impulses to think ahead and do things differently.
Each online business stop provides strong impulses on a topic that offers new opportunities and, in addition to a top keynote speaker, brings outstanding best-practice companies before the curtain.
Niches & Innovation with Waldemar Zeiler
Thursday, 08.04.2021, 16:00 - 18:00 o'clock
If the previous business path looks more like a dead end, new approaches are needed. In addition to a keynote speech by pioneer Waldemar Zeiler, players and experts will show concrete examples of how to come up with promising innovations and find exciting niches in the online business stop on the topic of "Niches & Innovation".
Cooperation & New Work with Franz Kühmayer
Thursday, 06.05.2021, 14:00 - 16:00 hrs
Cooperation instead of competition: This is still an unfamiliar strategy for many in business. In this online business stop, innovative companies and experts will show you what intelligent cooperation can do - and how to get it off the ground. The new possibilities of digital working and new working models also open up new opportunities for business: digital and HR professionals show how to work digitally differently, better and more productively.
Sustainability & Regionality with Markus Linder
Wednesday, 19.05.2021, 14:00 - 16:00 hrs
Because awareness of regional products and services is growing, this is giving rise to many interesting business approaches. Entrepreneurial masterminds and experts explain how to break new ground with sustainability and regionality. They provide alternative perspectives and success strategies for young entrepreneurs who want to tackle and implement new opportunities with sustainable, regionally distributed products and services.
Resilience & Resilience with Barbara Jascht
Thursday, 29.06.2021, 16:00 - 18:00 hrs
What does the future hold for business and society? Which trends can be exploited? And which challenges do we need to be prepared for? At the online business stop on the topic of "Resilience & Resilience", there will be exciting impulses and outlooks from futurologists and business masterminds. Innovative entrepreneurs will show how they have built up their businesses and made them fit for the future.