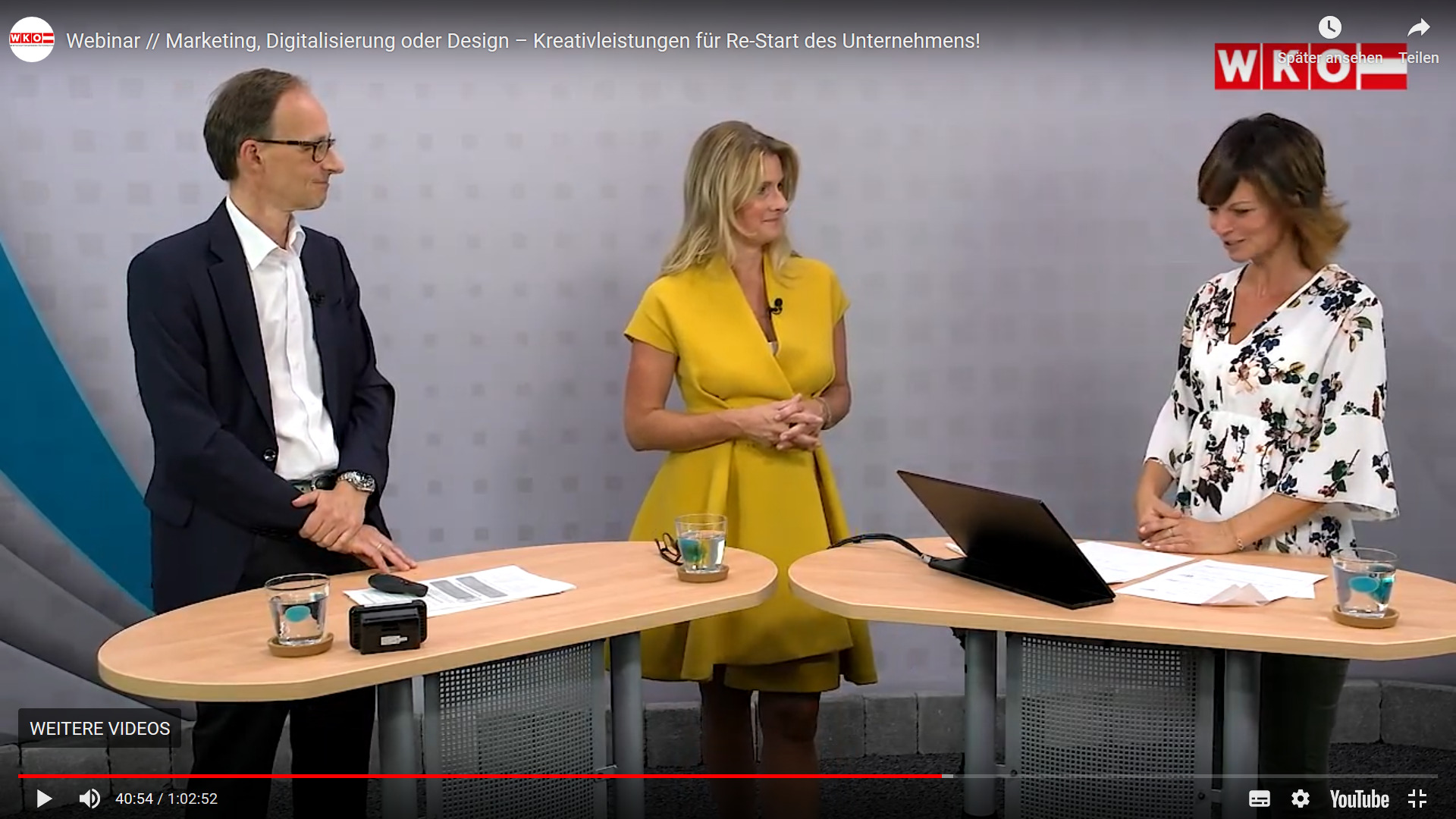 " Marketing, digitalization or design: creative services for the re-launch of your business.
Use the investment premium now for financing!"
The Corona crisis in particular has made it important for many companies to rethink their own marketing activities, to establish new and digital distribution channels or to realign their existing business model.
Those who can adapt to the new situation more quickly and recognize new needs of markets and partners can gain a competitive advantage. On the way there, creative people support - in communication, digitalization, innovation and more!
In this webinar you will learn why the creative industries, their solution competence, digitisation and innovation power for the economy as a whole are urgently needed right now and how you (or your customer) can get a project grant with the new investment premium.
The programme
Sabrina Oswald
on the importance of creative economic services of all kinds for a successful new start of the economy.
Sabrina Oswald is Managing Director and founder of FUTURA, a marketing consulting company. Her focus is on brand positioning & communication, with a special focus on storytelling. She has held management positions in many large communications agencies and is deputy chairman for the Information & Consulting division in Vienna. Sabrina will report on where and how creative companies can help with their business refreshment.
Mag. Erich Kühnelt
on the investment premium for creative industries projects.
Erich Kühnelt is an expert of the Austrian Federal Economic Chamber in the field of financial and tax policy. He specialises in the fields of subsidies and corporate finance and also has in-depth knowledge of EU regional policy and financial market law.
Q&A session
The webinar is a measure of Kreativwirtschaft Austria as an implementation partner of the BMDW within the framework of the Creative Industries Strategy for Austria. The webinar is implemented in cooperation with EPU of the Austrian Federal Economic Chamber.
PGlmcmFtZSB0aXRsZT0iSW52ZXN0aXRpb25zcHLDpG1pZSBmw7xyIEtyZWF0aXZsZWlzdHVuZ2VuIiB3aWR0aD0iMTIwMCIgaGVpZ2h0PSI2NzUiIHNyYz0iaHR0cHM6Ly93d3cueW91dHViZS1ub2Nvb2tpZS5jb20vZW1iZWQvWXBQdUxGQW1GdUE/ZmVhdHVyZT1vZW1iZWQiIGZyYW1lYm9yZGVyPSIwIiBhbGxvdz0iYWNjZWxlcm9tZXRlcjsgYXV0b3BsYXk7IGNsaXBib2FyZC13cml0ZTsgZW5jcnlwdGVkLW1lZGlhOyBneXJvc2NvcGU7IHBpY3R1cmUtaW4tcGljdHVyZSIgYWxsb3dmdWxsc2NyZWVuPjwvaWZyYW1lPg==