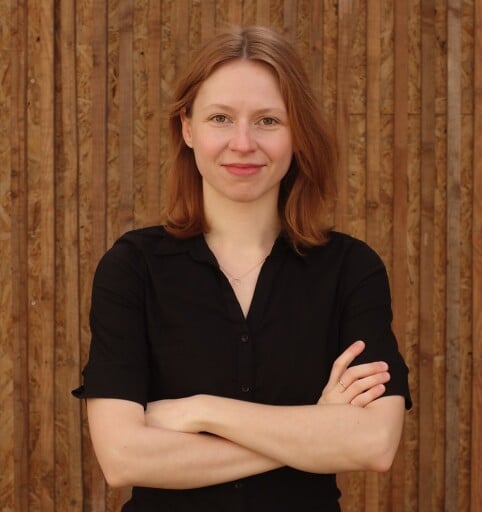 Karoline Berghuber is the new Head of Department for Entrepreneurship and Creative Industries at the aws
The former head of the aws Creative Impact Team takes over as head of the Entrepreneurship and Creative Industries department.
"Innovation is no longer synonymous with purely technological innovations. Innovation also requires creative approaches to solutions and new business models that have the potential to leave a lasting mark on the economy and society. Supporting such projects is a very fulfilling task. That's why I'm looking forward to continuing to help shape the development of the aws programmes," says Karoline Berghuber.
Berghuber has been supporting innovative entrepreneurs at the aws for four years and has also played a key role in the redesign of the aws Creative Impact funding programme.
Berghuber is now taking over as head of the Creative Industries and Entrepreneurship department at aws, which, in addition to existing funding programmes for the development of innovations outside of high technology, also includes the State Prize for Innovation and funding for Austria as a film location. In addition, the 20-member department accompanies and supports the next generation of entrepreneurs as they take their first steps with the Jugend Innovativ and aws First Incubator programmes. "We want to expand these successful programmes on the one hand and develop new ones on the other," says Berghuber.
"We are delighted to have won Karoline Berghuber, an experienced expert with excellent contacts in the Austrian funding landscape and the creative industries, for this challenging and exciting task," say Edeltraud Stiftinger and Bernhard Sagmeister, aws Managing Directors. Not only aws but above all the funding applicants will benefit from her comprehensive expertise in the funding of innovative development projects and her added value for society.
"Over the past few years, Karoline Berghuber has gained a comprehensive understanding of the challenges that new ideas face in the market. We are convinced that she will take the right measures to further develop our funding programmes in this area and adapt them to the changing needs of our customers," says Marlis Baurecht, Head of Entrepreneurship, IP Rights and Seed Funding.
Karoline Berghuber studied Management Consulting with a focus on Corporate Accounting and Auditing at the University of Applied Sciences Wiener Neustadt and Comparative Social Policy at the JKU in Linz. After her studies, she worked for Ernst & Young and as an assistant to the management. She has already been privately involved in the field of integration for ten years and co-founded a voluntary initiative in 2016 that supports the inclusion of people in Vienna. In addition to her voluntary work, she is an enthusiastic mountaineer and climber.