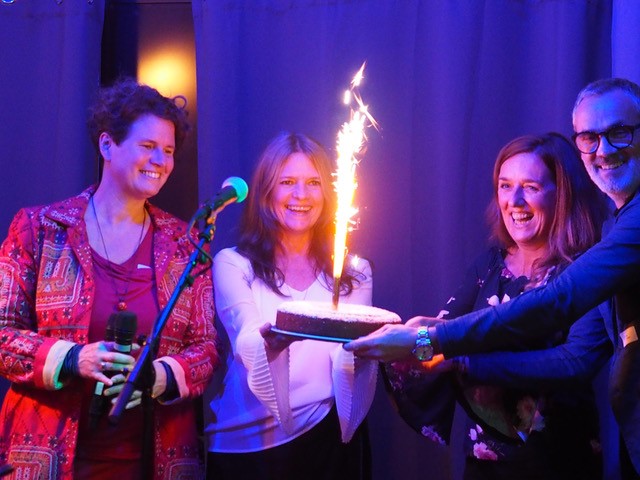 This was our C high 3 network meeting on October 10 & 11 in Vienna
For 15 years now, the creative business coaching C hoch 3 (Creative Community Coaching) has stood for interdisciplinary exchange among creative professionals throughout Austria and their economic empowerment - through new collaborations and know-how for individual business models. On October 10 & 11, a big reunion of all runs took place on the occasion of the 15th anniversary.
The European Culture & Creativity Days Vienna kicked off with an inspiring keynote speech by Veronica D'souza, founder of Geist Agency. The event continued with ten parallel creative tours to thirty different creative hotspots in Vienna. And in the evening, the ninety or so creatives from all over Austria celebrated the 15th anniversary of the C hoch 3 network at the Badeschiff Wien - a lively cooperation & innovation network that has united well over 1,000 self-employed people from the creative industries who have taken part in our C hoch 3 creative business coaching for 15 years. The association @Speisen ohne Grenzen provided the culinary and on stage @Sabine Foltin gave her first live concert. A cooperation project from Lower Austria presented its first song (world premiere!) and @Martin Rotheneder played numbers from his brand new album.
On the second day, a transformation camp took place on the premises of the @WKÖ. Lukas Sprenger, Head of Department Target Group Management at WKÖ welcomed the numerous participants and was enthusiastic about the energy of the creative industries. Topics around the "Triple Transition" formed the ground for the 15 sessions, which were offered and used by the participants. Professionalization, cooperation, transformation and the power of networking became tangible. C hoch 3 is a nurturing network for creative industry entrepreneurs who use their tools with heart and competence for clients in times of change and thus become sustainable transformation companions. 
Network coordinator Marie-Theres Zirm and her team organized the two days and guided the participants through this year's network meeting.
C hoch 3 is an offer of Kreativwirtschaft Austria within the framework of the Creative Industries Strategy of the Federal Ministry of Labor and Economic Affairs.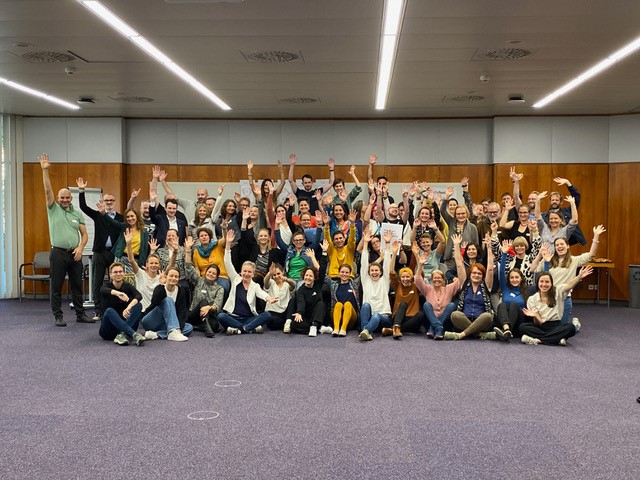 Group photo on transfer camp day with Lukas Sprenger, WKÖ
Copyright: cardamom