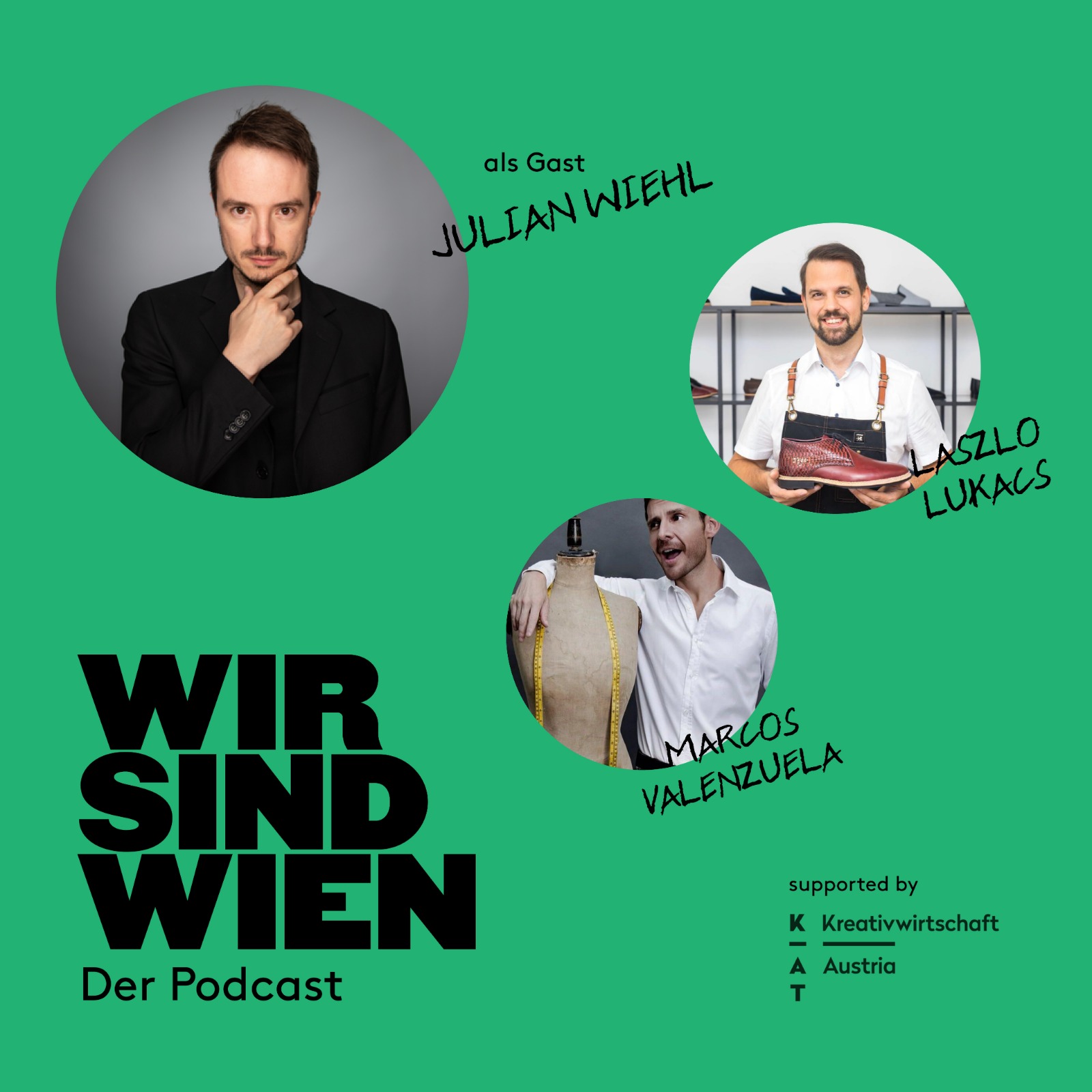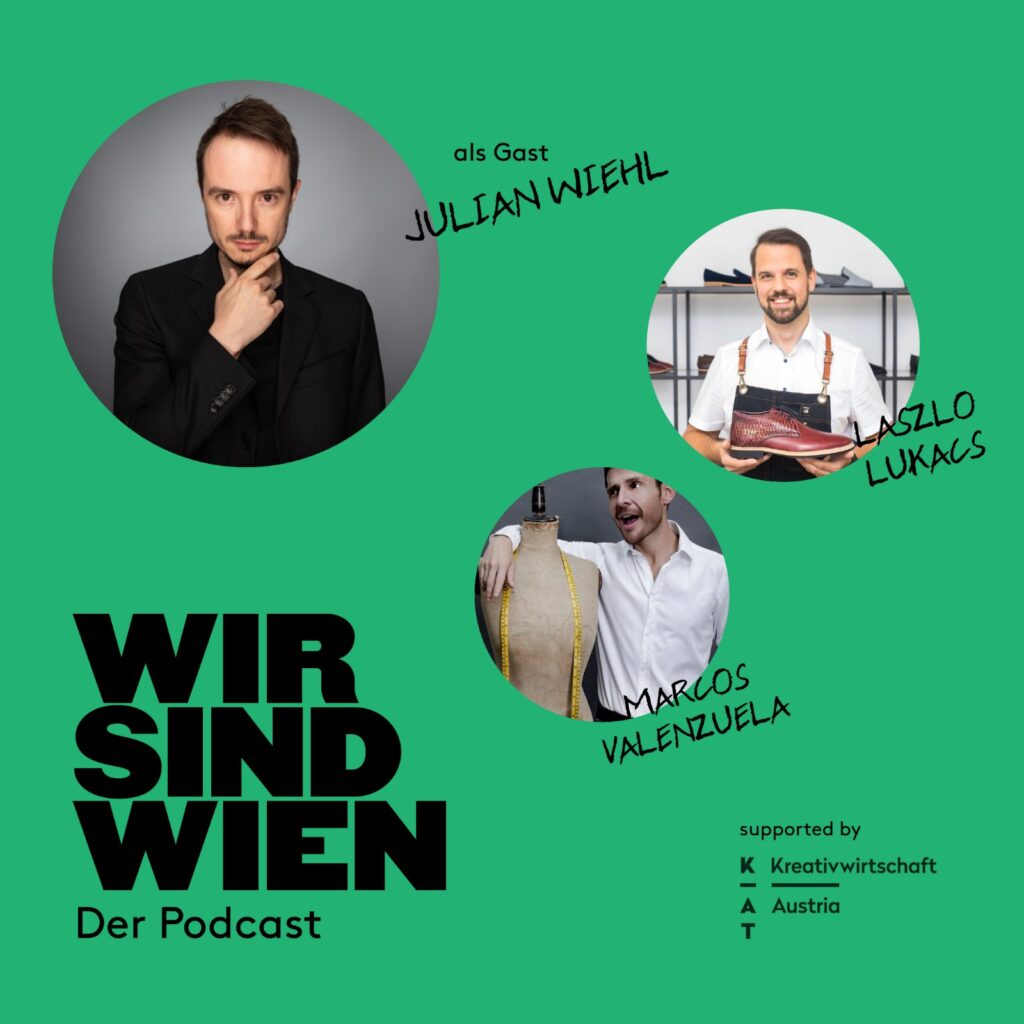 A podcast about successful fashion business made in Austria
Shoe designer László Lukacs and fashion designer Marcos Valenzuela offer creative people a platform with their podcast WIR SIND WIEN.
Episode 11- WE ARE VIENNA the podcast with Julian Whiel
The Washington Post, Al Jazeera and other media talked about his work and applauded him. Our 11th guest on WIR SIND WIEN the podcast could be casually described as a country bumpkin with a cosmopolitan outlook. A creative who develops visionary ideas and a disciplined entrepreneur, with a great social sense. In everything he does.
Julian Wiehl is the owner of the communication agency Vangardist, which emerged from the digital magazine of the same name. Between an emotional letter to his father, clear words and criticism of the rejection of violence against women, Julian emphasizes how important it is for us creatives to know not only our creations, but our customers, in order to have success in sales. On Saturday, Dec. 17, the last episode of this year will be released, which will focus on the question: What is more important... to know the product or the customer? You can listen to the new episode on Spotify, Youtube and online.
Episode 10- WIR SIND WIEN the podcast with Gunther Gram
Each of us knows a person with whom you recharge with good energy just by exchanging for a while. Such people are known as vitamin people. In the new episode of "WE ARE VIENNA", is such a person! Gunther Gram is warm, pleasant, although he tries to hide it, he has a very romantic nature. Gunther has a great and fine sense of humor, is friendly, close to nature and besides everything a great lawyer who also speaks the language of creative people.
On 12.11. another new episode of "WIR SIND WIEN" was released. It is the tenth episode of the podcast and guest is Mag. Gunther Gram, partner and managing partner of Höhne, In der Maur und Partner Rechtsanwälte. In this chapter, Gunther explains between personal notes many of the doubts, situations and solutions we all face working in the creative world. You can listen to the new episode on Spotify, Youtube and online.
Episode 9- WE ARE VIENNA with Liane Seitz
Let's not lie to ourselves! As creatives, we usually dream of seeing our creations on the cover of our favorite magazine, or as a headline or article in the trade press. For some of us, one of the goals as designers is to see our product properly positioned on the red carpet, to be presented by a celebrity representing our brand, in order to reach customers who consume the product. But how do you make that happen?
At first glance, the world of creative, fashion and public relations seems superficial. As if it's all about a battle of egos. And quite honestly, it is a bit like that. But behind this superfluous image lies a strategy and hard work of strategists.
Our guest in the ninth episode of WIR SIND WIEN, the podcast, is Fashion Squad CEO Liane Seitz. Liane's goal was never to start a PR agency, today she runs and manages one. In fact, her agency creates and develops brand positioning strategies that go beyond traditional PR services.
There are many praises and beautiful details that can be said about Liane Seitz as a person or as a professional. But there is one that defines her essence, Liane Seitz is profound. In the ninth chapter of WIR SIND WIEN is PR agent Liane Seitz, a leading, authentic woman, fashion enthusiast and one hundred percent creative.
Episode 8- WE ARE VIENNA the podcast with Patrizia Santer & Martin Kweton
Guests of the 8th episode of WIR SIND WIEN are Patrizia Santer & Martin Kweton from the fashion trade agency SanterKweton. For over twenty years, the duo has been advising and supporting fashion labels in the development and marketing of their collections.
You want to know how creativity and business plan interact, what it takes to make Fashion Made in Austria successful and how a grandmother's advice can influence business?
Listen to the conversation with László Lukacs and Marcos Valenzuela on Spotify or Apple Podcasts.
The result is a funded measure by KAT as part of the BMDW's Creative Industries Strategy for Austria.