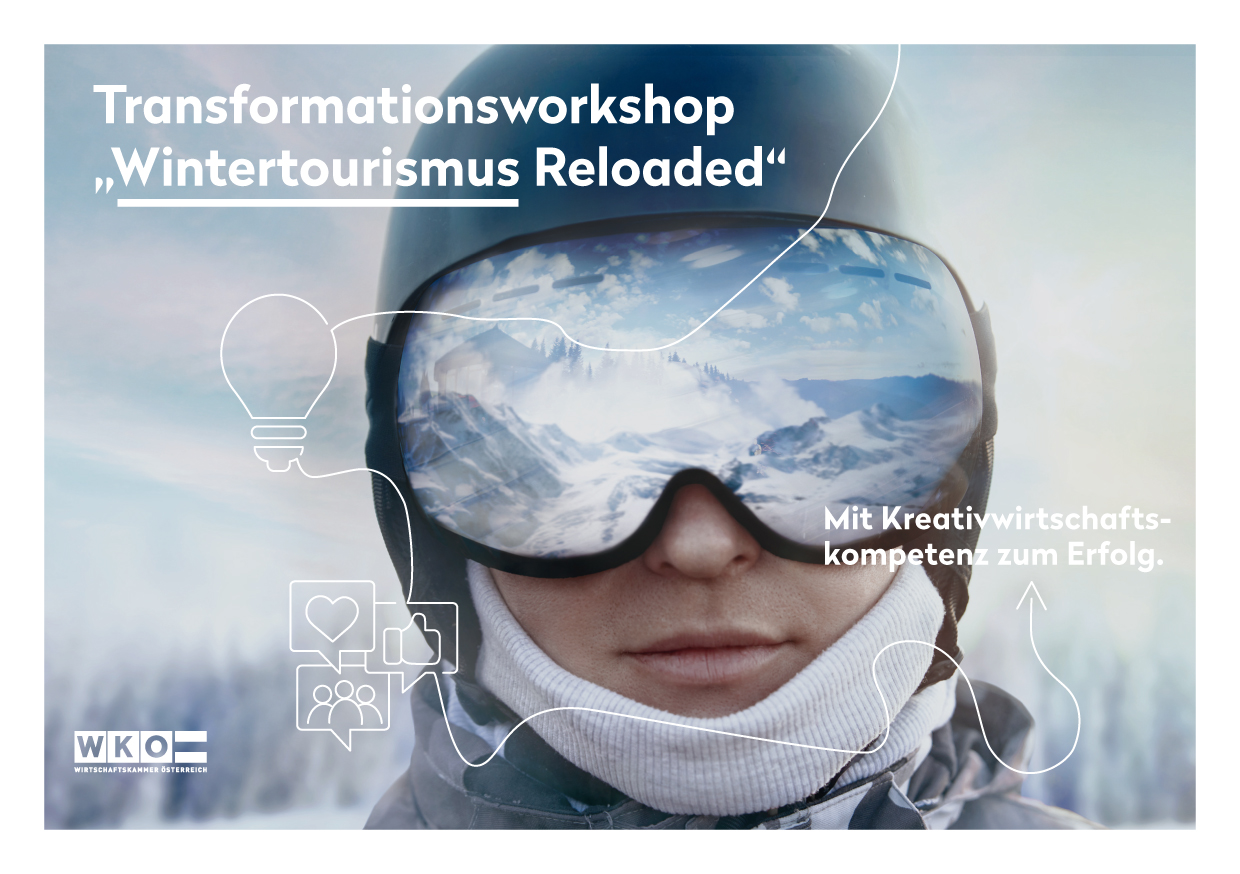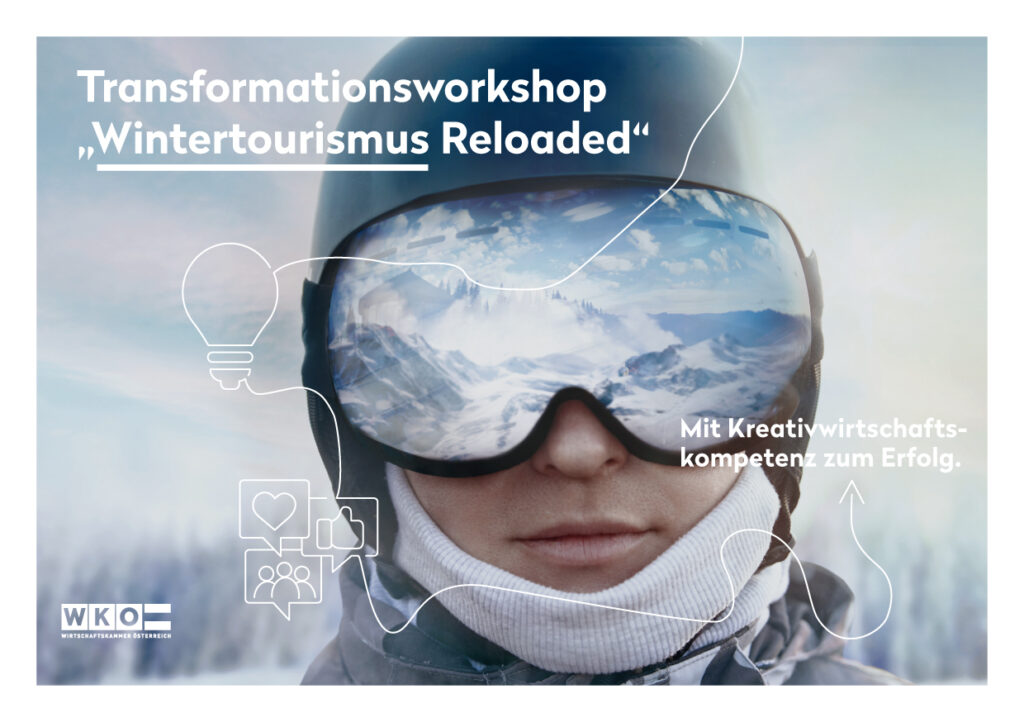 Winter Tourism Reloaded: A Transformation Workshop with Creative Experts
Austria will continue to need strong, attractive and sustainable winter tourism in the coming decades. But how can I successfully position my company for the digital and "green" transformation? Together with experts from the digital and AI sector, experience and service design, positioning, employer branding and many more, companies from the winter tourism sector can make their business models fit for the future with fresh ideas.
> When: 14.6.2023 from 09:00 to 13:00 and 15.6.2023 from 13:00 to 17:00
> Where: Online via Zoom
> The workshop is free of charge!
Work with experts from the creative industries to find appropriate solutions for your company. Develop new business ideas and explore opportunities for cooperation so that you will still be competitive and able to operate sustainably in 2030 and beyond.
For entrepreneurs
Your challenges
Tourism regions and businesses are strong, but they are currently challenged more than ever to transform their offerings. Both personnel requirements and environmental and climate protection are enormous challenges for the "winter tourism" value creation system. In order to be well equipped for the future as an individual company and to actively shape the ecosystem, new ideas, offers and adapted business models are required.
Our offer
The Austrian Federal Economic Chamber, together with Kreativwirtschaft Austria, offers you the chance to use expert knowledge from the creative industries for your considerations by participating in a top-class transformation workshop.
We explore questions such as:
How can you gear your offer to the vacation guests of tomorrow
What role can new digital technologies, such as ChatGTP, play for your company in the future?
How can collaborations strengthen your business and create new services and offerings?
How can you cover your personnel requirements and how do you retain employees in the long term?
What digital experiences for the guest can offer your business new perspectives and opportunities?
How we proceed:
In the workshop, 15 entrepreneurs from winter tourism businesses work with 6 experts from the creative industries to find answers to the above-mentioned questions. Together, they will define new ideas and solutions for companies with a focus on winter tourism.
With the help of the expertise and "out of the box thinking" of the creative industries, you will get a change of perspective and fresh, new ideas for the green and digital transformation of your company.
Apply now!
Do you have a company that offers services, experiences, accommodation or infrastructure in winter tourism? Then let's develop offers and ideas together in the workshop that will secure your competitiveness far beyond the year 2030.
For creative people
You want to help develop solutions and business ideas for a "Winter Tourism Reloaded"?
We are looking for creative people who want to help develop new perspectives, business models and positioning approaches for a winter tourism of the future.
Creative impulses are needed to sustainably and digitally design the "customer journeys" for winter tourism. New and fresh creative thinking can help to design changed worlds of experience in real and digital terms.
What transformation steps are needed in the short, medium and long term? Which services and cooperations offer sustainable potential? How can new offers be set up in such a way that less personnel-intensive but outstanding guest experiences are ensured? How can the digital world offer added value for winter tourism, guests and employees?
Our transformation workshop for a "Winter Tourism Reloaded".
In the workshop, 15 entrepreneurs from the winter tourism industry work together with 6 creative experts from different disciplines to develop new solutions for winter tourism.
We are thus addressing the greatest challenges and opportunities of the winter tourism industry, which is so important for Austria.
Work is done on questions such as:
How can winter tourism businesses develop their services and offerings so that they will still be attractive and competitive in the future?
Which collaborations can create new potential and add new opportunities to business models?
How can digital tools and artificial intelligence enhance guest experiences?
How can re-positioning and skillful storytelling place attractive, sustainable offers for winter tourism regions?
Your tasks in the transformation workshop?
As a creative expert, you will support entrepreneurs from the winter tourism industry in their transformation projects.
You will work with entrepreneurs in breakout sessions on solutions and strategies for changing value creation models within your area of expertise.
The online workshop will take place over two half-days.
Entrepreneurs benefit from your impulses and thought-provoking ideas!
Your achievements, experience and knowledge will of course be rewarded.
Apply now!
As a creative expert, you will be an important source of innovation and impetus for this format. We are looking for creatives from the following disciplines/areas: User Experience Design/Customer Journey both real and digital, CSR and sustainability, digital and AI experts with experience in tourism, positioning and storytelling, service and product designers as well as employer branding specialists.
Do you know companiesthat are strongly dependent on winter tourism or do you know entrepreneurs who offer services, experiences, accommodation or infrastructure in winter tourism? Then please send them our invitation to them!