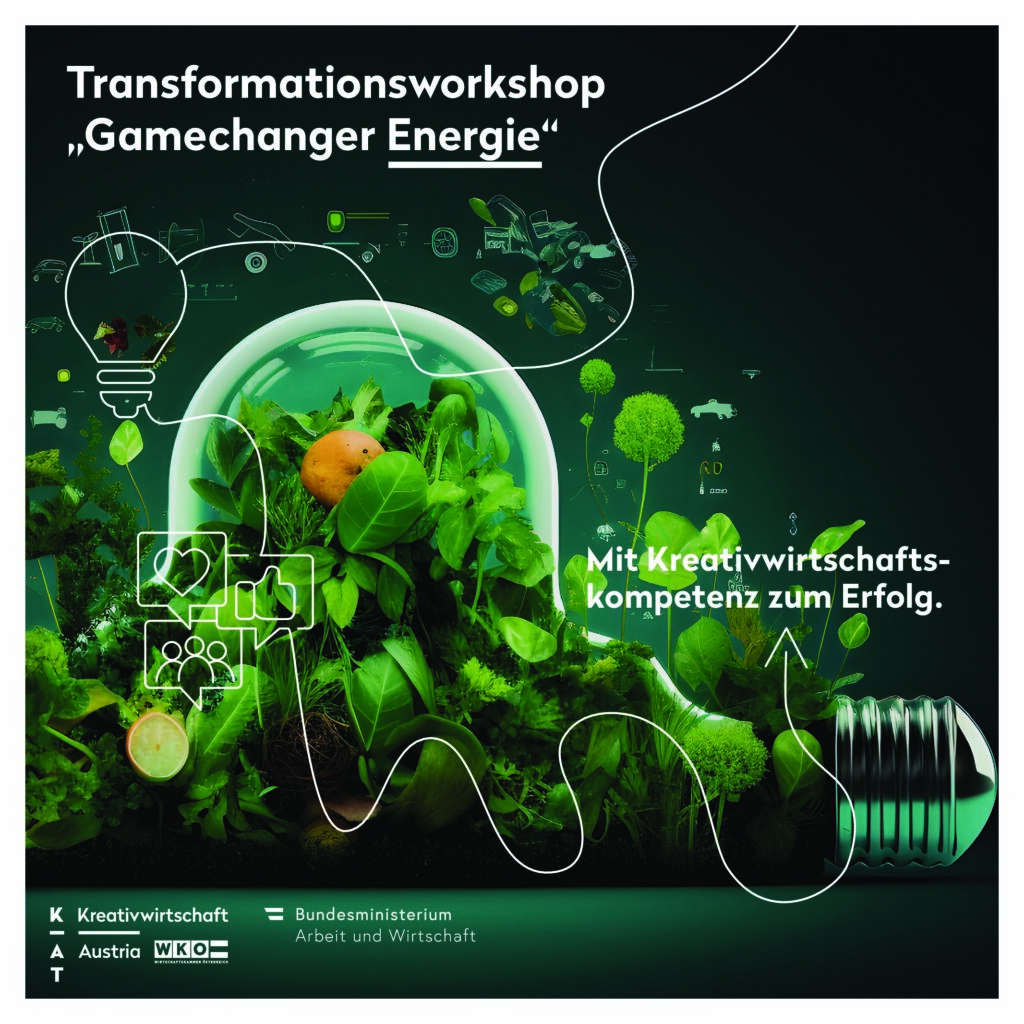 Gamechanger Energy 2023: Transformation Workshop for Food & Regional Economy
When: 08.11.2023 from 09:00 to 13:00 and 09.11.2023 from 13:00 to 17:00
Where: Online via Zoom
The workshop is free of charge!
Rising energy prices pose enormous challenges for entrepreneurs. New strategies are needed to help SMEs adapt to the new energy reality and continue to be successful. How can I find new approaches in production, sales and marketing and what do I need to change effectively in my business model? What opportunities can I take advantage of to reposition myself and create the associated green transformation? Should I think about new offers, communication, partners:inside or even new customer groups?
Our transformation workshop creates new perspectives in the energy crisis and focuses on the food and regional economy. With marketing, design, digitalization professionals and other experts from the creative industries, solutions and ideas for an "energetic" ecological and digital transformation are developed, especially for and with small businesses.
When: 08.11.2023 from 09:00 to 13:00 and 09.11.2023 from 13:00 to 17:00
Where: Online via Zoom
The workshop is free of charge!
APPLY NOW!
Work with experts from the creative industries to find appropriate solutions for your company. Develop new business ideas and explore opportunities for cooperation so that you will still be competitive and able to operate sustainably in 2030 and beyond.
Your challenges
The Austrian food sector is strong, but already more challenged than other industries. Small and medium-sized enterprises in particular are under enormous pressure, which is further intensified by the energy crisis. The current energy situation affects many areas from production, raw materials, transport routes and availability to trade and distribution. The still high energy costs threaten the competitiveness of small and medium-sized companies in particular. New ideas and offers are needed to adapt business models and thus emerge from the crisis.
Our offer
Let's use the crisis as an opportunity. The Austrian Federal Economic Chamber, together with Creative Industries Austria, offers you expert:inside knowledge for your considerations in a top-class transformation workshop as part of the BMAW's Creative Industries Strategy for Austria.
We explore questions such as:
What opportunities are there to innovate products/services to save energy costs?
How can we make the transition to energy efficiency and sustainability at the same time, and what potential can this bring for the company?
How can the entire business model be changed or adapted due to cost pressure?
How to enable collaborations, new services and offerings, and help reduce costs?
How can new or additional target groups that are less price-sensitive be addressed?
What opportunities does digitization offer for optimization?
How we proceed:
In the workshop, 15 entrepreneurs from gastronomy, the food industry, small and medium-sized retailers and distributors work together with 5 experts from the creative industries. Together they will find answers to the above-mentioned questions and search for new ideas, strategies and solutions. Benefit from the impulses and thought-provoking impulses of the two workshop half-days!
Do you know companiesthat are strongly affected by the energy crisis or do you know entrepreneurs who offer services, experiences, accommodation or infrastructure on energy topics? Then please send them our invitation!