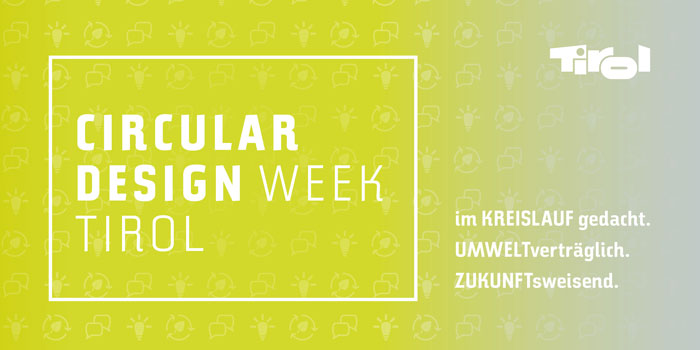 © Tyrol Business Location Agency
Circular Design Week Tirol 2023
May 05 - 17 | Innsbruck | Workshops, impulse talks, networking
https://www.standort-tirol.at/veranstaltungen&genericpageid=31868#top
Sustainability and the circular economy are among the issues that concern us all - today and in the future more than ever. They affect not only the environment, but also the economy and society. This is exactly where the Circular Design Week Tyrol comes in: It offers entrepreneurs, interested parties and the professional public the opportunity to identify their own points of contact, to promote positive change in the long term and to make their companies fit for the future.
From this, two highlights:
Official opening of the Circular Design Week
Why is the circular economy also relevant for me and my company? What are current developments and legal framework conditions that will significantly shape the economy in the future? We will explore these and other questions at the official opening of the Circular Design Week Tyrol 2023! The Standortagentur Tirol, Land Tirol, Circular Economy Forum Austria and many more will be present. In addition, the regional Tyrolean exhibitors will be presented.
Monday, 08 May 2023 | 15:00 - 17:45 | Die Bäckerei - Kulturbackstube, Dreiheiligenstraße 21a, 6020 Innsbruck | Program and registration >>
Focus Communication | kreativland.tirol
Can communication and information design contribute to a more circular economy?
Sustainability is also a key issue for the future in the corporate context. It is not only about the careful use of all resources, but also about responsibility towards society and stakeholders. But how can this complex topic be communicated effectively? How do I address the issue internally and externally? Do communication and design have the power to change our behavior in the long term? These and other questions will be discussed.
Wednesday, May 10, 2023 | 19:00 - 20:00 h | Die Bäckerei - Kulturbackstube, Dreiheiligenstraße 21a, 6020 Innsbruck | Program and registration >>